About us
Good numeracy is vital to us all – and vital to the UK. Millions of adults struggle with their everyday maths skills. We want this to change – and we believe that change is possible.
We want everyone in the UK to have the numeracy that allows them to make the most of their lives. We believe that a major shift in attitudes is key to this.
National Numeracy is an independent charity established in 2012 to help raise low levels of numeracy among both adults and children and to promote the importance of everyday maths skills. We aim to challenge negative attitudes, influence public policy and offer practical ways of helping adults and children improve their numeracy - in the community, the workplace and formal education.
Our aim
To enable everyone across the UK to be confident and competent in using numbers and data, to be able to make good decisions in their daily life and at work.
Our approach
We are working towards our aim in two main ways:
Raising awareness about poor numeracy levels which exist in the UK, how numeracy differs from mathematics, and the promoting the recognition that everyone can improve through campaigns such as National Numeracy Day.
Improving numeracy. Over 350,000 people have registered to check and improve their maths skills with the National Numeracy Challenge, giving them a space to assess and improve on their numeracy at their own pace.
Our report Essentials of Numeracy: a new approach published in summer 2017 provides an overview of the issue, why things aren't working and our proposed solutions.
Our Theory of Change
Our Theory of Change sets out the framework for how, ultimately, we want to improve life chances for individuals and productivity for the country.
Our impact
Read our Impact Report to find out what difference we are making to people's lives.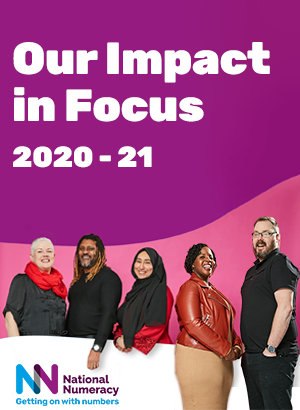 Numeracy is an essential skill – and an entitlement – for everyone. The economic success of the UK and the wellbeing of people individually are dependent on it
Everyone can improve their everyday maths skills. Numeracy can be learnt. Mathematical understanding is not determined at birth
Improvement takes effort and application. The real key to better numeracy skills is determination and resilience. Learning can be hard work for everyone
Improving numeracy needs encouragement, support and good teaching. The education system, employers and politicians all have a part to play
Negative attitudes are the foremost barrier to making the UK numerate. Removing them – getting rid of mistaken beliefs and the widespread 'rubbish at maths' tag – is fundamental to change