Training and workshops
National Numeracy offers a unique suite of training courses and workshops for organisations, workplaces and schools, improving numeracy by using our confidence-focused approach. Together we can help adults and children overcome low number confidence and fulfil their potential.
Aimed at supporting adults with low confidence in their number skills, these sessions do not teach maths skills but instead aim to build confidence, change mindsets and introduce resources to support skills learning.
Negative thoughts, feelings and anxieties around maths often hold people back from even engaging with numeracy upskilling. This makes our confidence-focused approach critical.
For more information about any of the training and workshops below, or if you would like to book sessions for your organisation, please get in touch. You can contact us at [email protected]
The Becoming a Numeracy Champion programmes are designed to help organisations support their staff, students or customers with numeracy, using an attitudes-based approach. They are ideal for Learning & Development teams, tutors, HR staff, Union Learning Representatives, and others who take a role in supporting adult numeracy. A Numeracy Champion is someone who can support learners to develop positive attitudes towards numeracy, overcome their barriers and start their journey to improved numeracy – they are not expected to teach maths, but instead act as mentors.
Training courses are each supported by a pack of resources, include a mix of activities, videos, polls, presentations, case studies and discussions – and are all CPD accredited.
Becoming a Numeracy Champion: Myths, mindsets & driving change
Who is it for? Workplaces (Learning & Development staff, HR, Union Learning Reps, managers, etc.)
How long is it? 4 x 1.5-hour sessions online
Becoming a Numeracy Champion: Children, families & feeling good about maths
Who is it for? Those who work with children and families (could include teachers, teaching assistants, community learning organisations, etc.)
How long is it? 3 x 2-hour sessions online
Becoming a Numeracy Champion: Maths, mindset & money
Who is it for? Frontline staff supporting people with money issues
How long is it? 2 x 2-hour sessions online
We can also deliver the training in person – please email us at 

[email protected]

 for more information.
Workshops
We also offer direct-to-learner workshops, for organisations to offer their staff, or for schools to provide to parents – these are not maths lessons, nor do they teach any maths. They are all about overcoming attitudinal barriers adults face on their journeys to building confidence with numbers.
Supporting positive attitudes to maths in children
What is it about? Building positive attitudes towards numeracy and how to ensure that your children develop these too. The session will cover the importance of maths in the real world, being positive about maths, and how to boost your own number skills as an adult.
Who is it for? Parents and carers
How long is it? 1 x 1-hour online session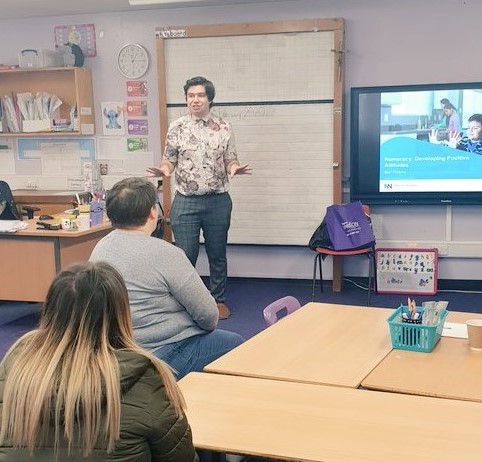 We also offer workshops adapted to the context of numeracy for work, or money management. For more information about any of our workshops, please contact us at 

[email protected]

.
Video: Talk on developing confidence with numbers
Watch our Training Development and Delivery Lead, Ben Perkins, talk about how we can develop confidence with numbers.