Becoming a Numeracy Champion
Our CPD accredited courses train organisations and individuals to understand and unpack 'anti-maths mindsets'. Develop your skills to support and encourage number-positivity with National Numeracy.

What is a Numeracy Champion?
Numeracy Champions are trained to support adults as they develop positive attitudes toward maths. Numeracy Champions don't teach maths, but instead offer support and encouragement as others work to improve their confidence and numeracy skills.
Watch our video to hear more about the training, as well as what some of our trained Champions have to say about the impact it's had.
The programme
With over one third of UK adults struggling with numeracy, there are many barriers to start building confidence and positivity. The Becoming a Numeracy Champion programme is designed to help organisations support their staff, students, customers or service-users with numeracy, using an attitudes-based approach.
The Becoming a Numeracy Champion programme is delivered online in two 3-hour sessions through a mix of videos, polls, presentations, case studies and discussions.
Becoming a Numeracy Champion programmes are focused on supporting adults getting into or on at work; supporting families and schools; or supporting members of the community to better manage their money.
Numeracy Champions do not teach maths
Numeracy Champions support positive conversations with others about numbers. They:
Talk positively with others who may feel anxious about maths, and inspire them to share their experiences
Engage and support others to have a more positive approach towards numbers
Signpost others to take the first steps in improving their numeracy skills using National Numeracy's online resources
Utilise the tools and resources from the programme
Anyone with an interest in supporting others to feel more confident with numbers could be a Numeracy Champion! The benefits of being a Numeracy Champion include:
CPD-accredited training programme, enhancing your own professional development
Exploring your own numeracy journey and how this can impact your everyday life
Opportunity to join a network of other Champions across various industries to share best practices and collaborate
Access to resources, key messages and further activities to support you in your role
Calendar of events for you to engage in
Ongoing support and continued relationship with National Numeracy to help you to improve numeracy within your organisation, community or school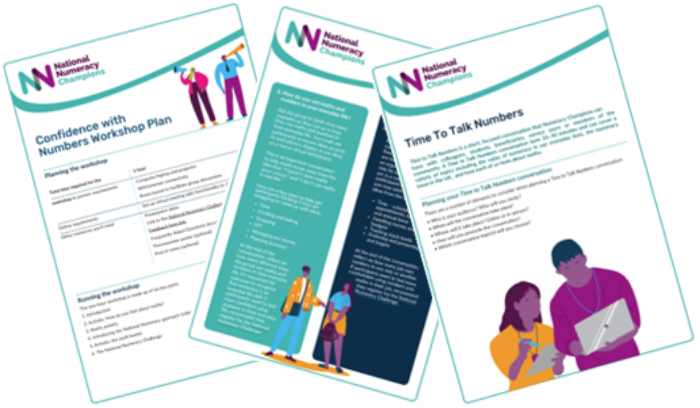 Talk to us about training
If you'd like to hear more about in-person training, book one of our courses or chat with the team, send us an email using the button below. We will happily answer any questions you have!
3 Benefits of becoming a Numeracy Champion
Numeracy Champion resources
We provide resources to support the learning on the training programme. This includes links to lots of helpful documents, including an activity workbook, session slides and useful information.

Quarterly forums
Our online forums allow Numeracy Champions to network with one another from across the country, hear inspirational stories from other Champions' activities and share any challenges faced and ask questions of others. 

Access our exclusive LinkedIn group
Join other Numeracy Champions inside our exclusive LinkedIn group. Here you will be able to ask questions, share insights and keep in touch with our fantastic Training Team.

Hear from trained Numeracy Champions
Over 1,000 adults across the UK are now trained Numeracy Champions! Find out just how our training has encouraged people to share their story, and helped transform their relationship with numbers.
Explore our training resources:
Try the National Numeracy Challenge
The National Numeracy Challenge is a free, online resource we provide and recommend to all numeracy champions as part of their training. It is designed to help adults improve their skills and confidence with numbers, in their own time and at their own pace. 
Don't worry, there's no complicated maths like algebra inside! The Challenge is all about the maths you need in daily life and at work.  Find out your current level by completing a confidential check below!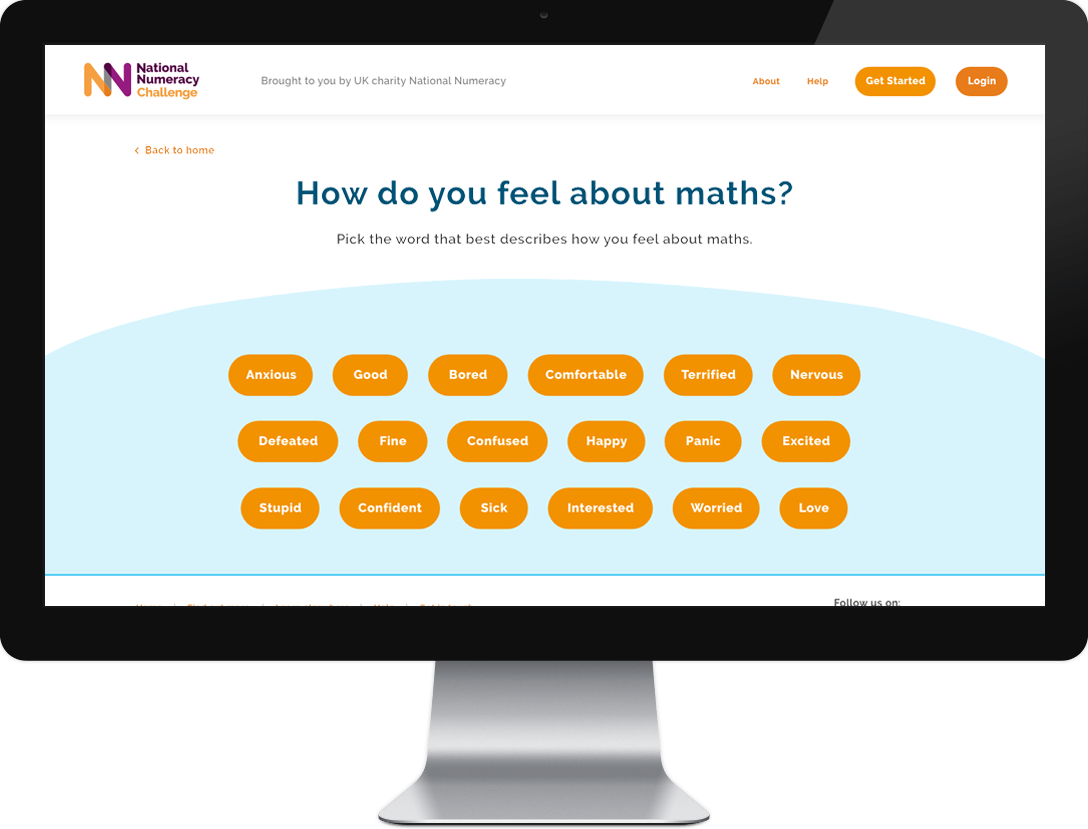 More on our mission to improve the nation's numeracy skills