Communications Toolkit
For Local Authorities and Other Partners
Welcome
The resources on this page are for the exclusive use of our partner local authorities
and other Numeracy Champion partners.   
This toolkit provides a set of resources that local authorities can use to support staff,   
residents and service users to build numeracy confidence and skills.   
The resources available will be periodically updated   

Please contact the Comms Team if you have any queries: [email protected]
Seasonal assets
New Year is the perfect time to get people trying something new, and started on a skills and confidence-building journey.
To help you engage with your audiences at this festive time of year, we have put together a toolkit of text and assets, as well as a festive giveaway.
Use the resources below in your newsletters, social media posts and communications. And watch this space for additional helpful content and material in the New Year!
Festive prize draw promotion
To encourage everyone to check their number skills this festive season, we are holding a giveaway! Anyone who completes a quick check on the National Numeracy Challenge between 1 and 17 December has a chance to win one of three One4All gift vouchers, worth £100 each.
Feel free to link use this example copy, and download the social media and banner assets for Facebook, LinkedIn, Instagram and Twitter/X, to get your audiences joining in with our festive prize draw.
Example copy:
We have teamed up with the charity National Numeracy to encourage everyone to brush up on their number skills and confidence by taking a check on the National Numeracy Challenge. It only takes ten minutes and is free, works at your own pace and on any device, mobile or tablet.
If you complete a quick check on the Challenge from the 1st to 17th December this year, you will be automatically entered into National Numeracy's draw to win one of three One4All gift vouchers, worth £100 each.
With the current cost-of-living, we all want to bag a Christmas bargain this year. And a little bit of number knowledge goes a long way when you want to get a good deal on your seasonal shopping. Why not get started now? [insert trackable link to National Numeracy Challenge]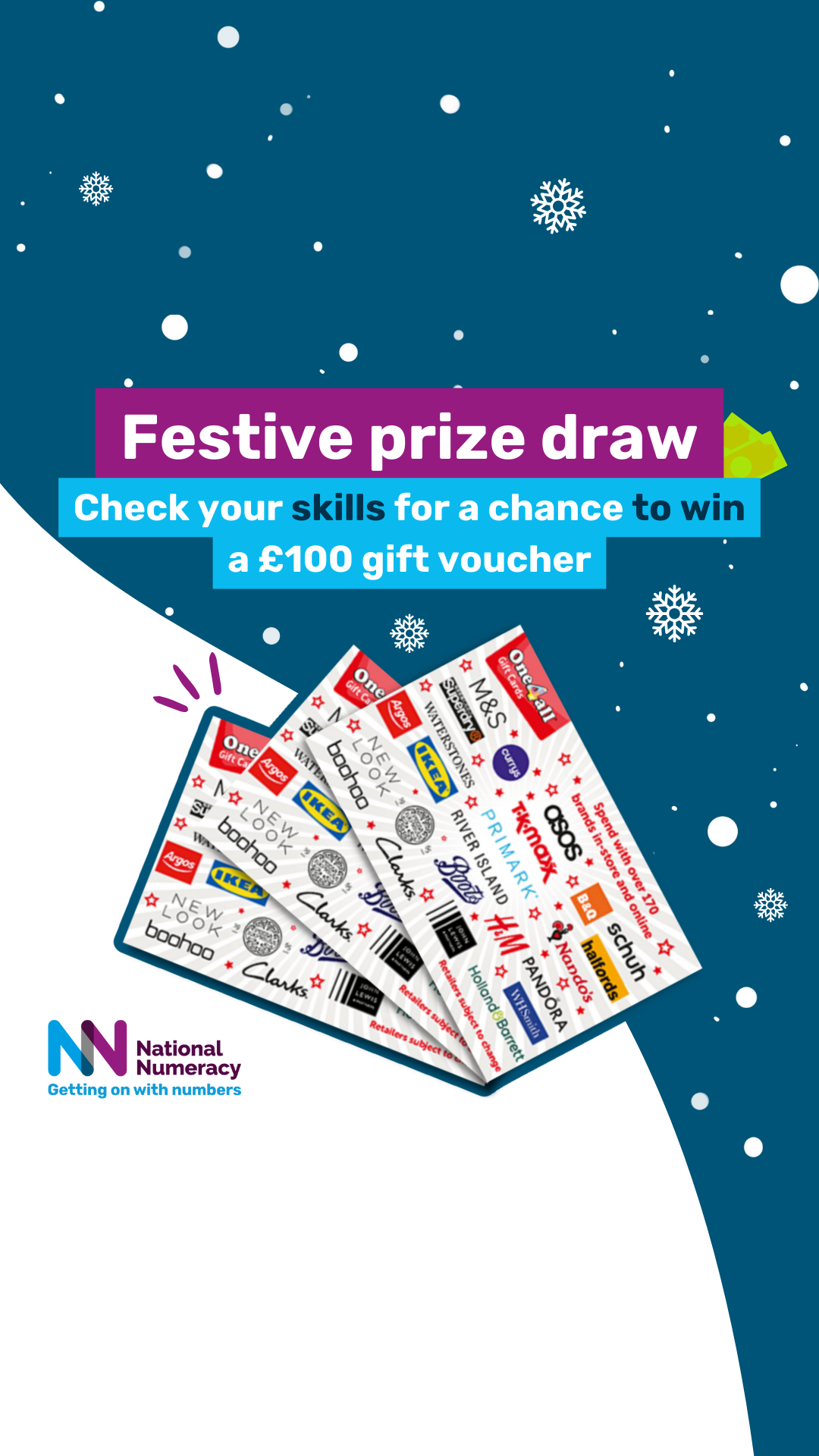 Key messaging: Festive season and New Year
You can use this general messaging about numeracy in your shorter posts and communications over the festive period, such as social media posts, posters and flyers:
The cost-of-living crisis means we are all on the look out for a Christmas bargain this year. And a bit of number know-how can help.
If you don't feel confident comparing prices, weights or sizes, take 10 minutes to brush up on your numeracy.
New year, new you! Thinking of trying something new and free in 2024? What about brushing up on your numbers? Numeracy is helpful in every aspect of life, at home, work and school...
New year, new skill, new you! Numeracy is a skill you need in everyday life…and this year, more than ever, it could be the most useful thing you improve.
Example long copy: Newsletters, emails and intranet
You can use and adapt this text for use in longer-form communications, such as newsletters, emails and intranet posts:
Have you ever said: 'I don't do maths'? Or maybe: 'I'm not a numbers person'?
Lots of people find maths difficult and feel anxious working with numbers. But numbers play a big part in everyday life, at home, work and school.
Whether it's making the most of your money, feeling more confident at work, or helping kids with homework, number play a starring role!
Being positive about maths rubs off on your kids and helps them learn that numbers are nothing to be scared of. And it rubs off on your life in other ways too. During the cost-of-living crisis, knowing your numbers can help you bag a bargain and make better decisions about your budget.
That's why we have teamed with the charity National Numeracy to offer you the chance to feel more number confident by brushing up on your skills using the National Numeracy Challenge, a free website.
You can sign up and get started on improving your numeracy in just 10 minutes. Don't worry, it's not classroom maths – it's everyday maths that you need in real life. It adjust to exactly the right level for you and shows you, step-by-step how to work things out. You can go at your own pace, where and when ever it suits you, using your mobile, tablet, PC or other device.
And if you sign up and check your skills before 17 December, you'll be entered into National Numeracy's prize draw to win one of three £100 vouchers!
Why not get started now? [insert trackable link to National Numeracy Challenge]
To get the most out of your year-round toolkit please read the Comms Guide first, so you can get everyone building their confidence.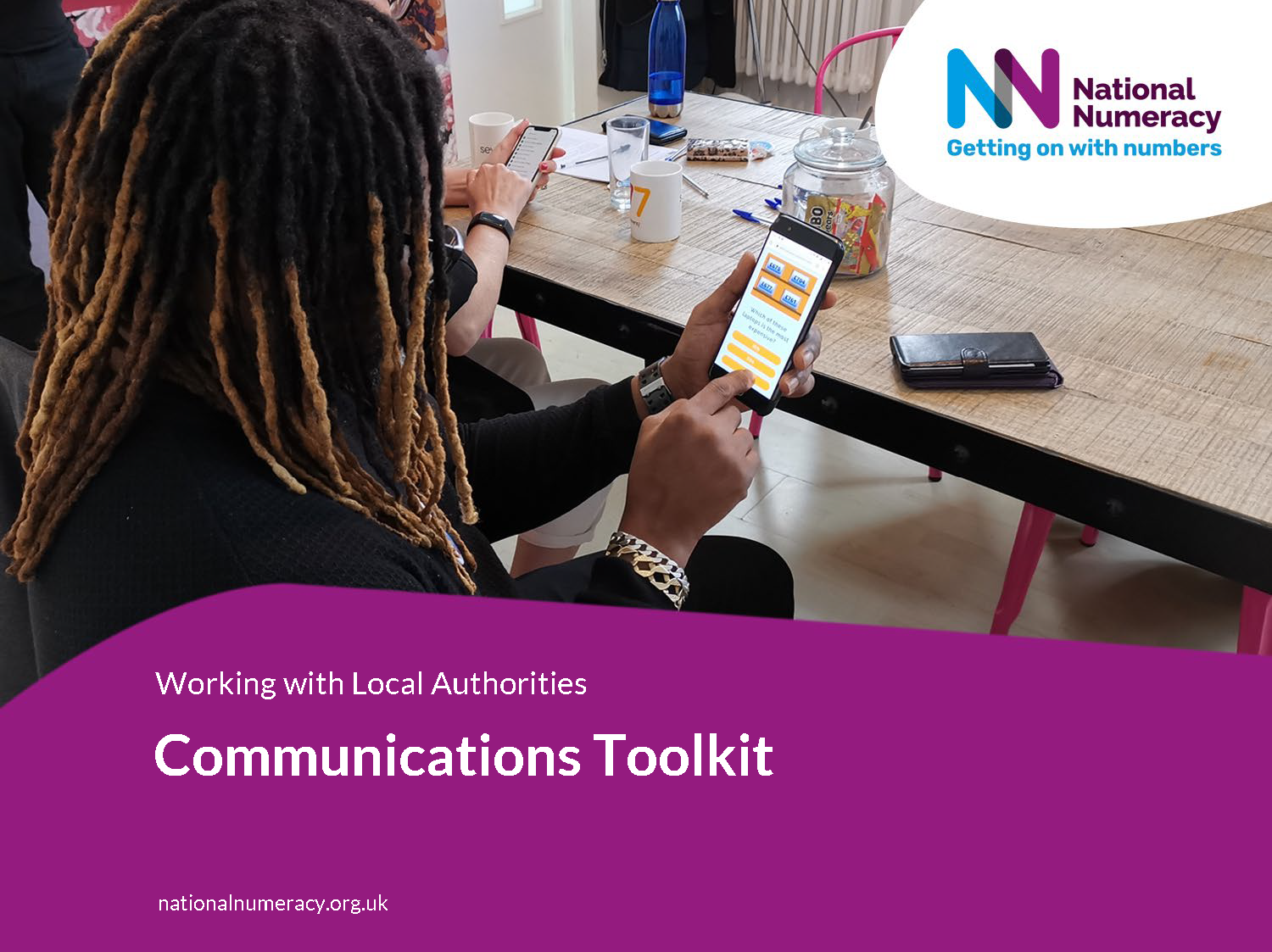 The National Numeracy logo
 Our logo can only be used by our partners and only when communicating directly about our work together.  

The logo must only be placed on a white background, its colours and dimensions must not be altered. There should be clear white space around the logo.  No text, partner logos, or other page marks should be in this space. Don't place the logo on a busy background that will affect legibility. Please don't use any other colour or effect, other descriptors or taglines, rotate or distort, recreate, redraw or 'box up' the logo within a holding device.  

Please download and read the full logo guidance below before using our logo.  

Download full logo guidance
Download the logo RGB (eps)  

Download the logo CMYK (eps)  

Download the logo CMYK (png)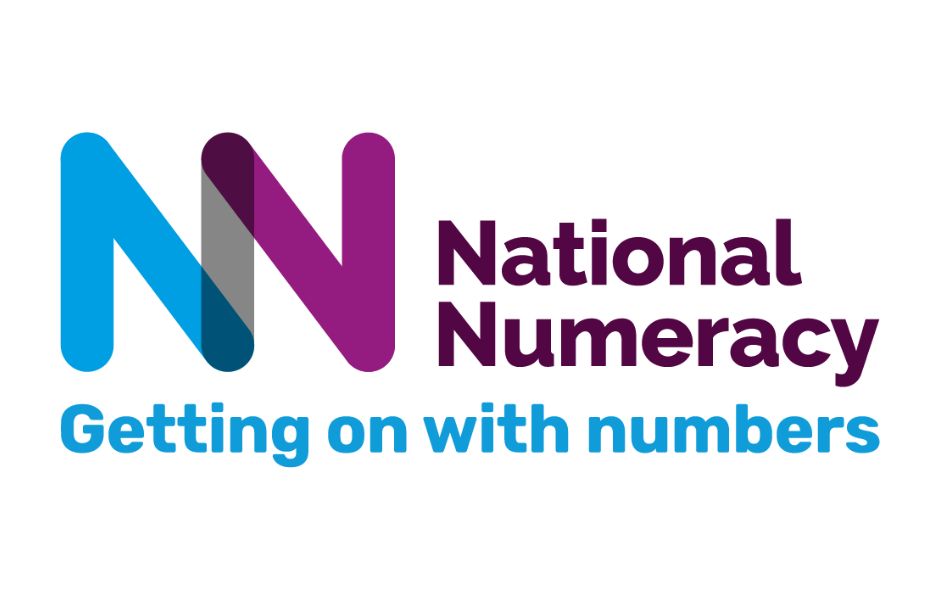 Social media graphics
By downloading the graphics below and using them alongside messaging in your Comms Guide, you can get the word out across all social media platforms.
There are graphics inviting people to become Numeracy Champions, as well as graphics to promote the National Numeracy Challenge – and each graphic has a space for you to add your own logo.
And be sure to tag us so we can see and share what you're up to! You can find us on: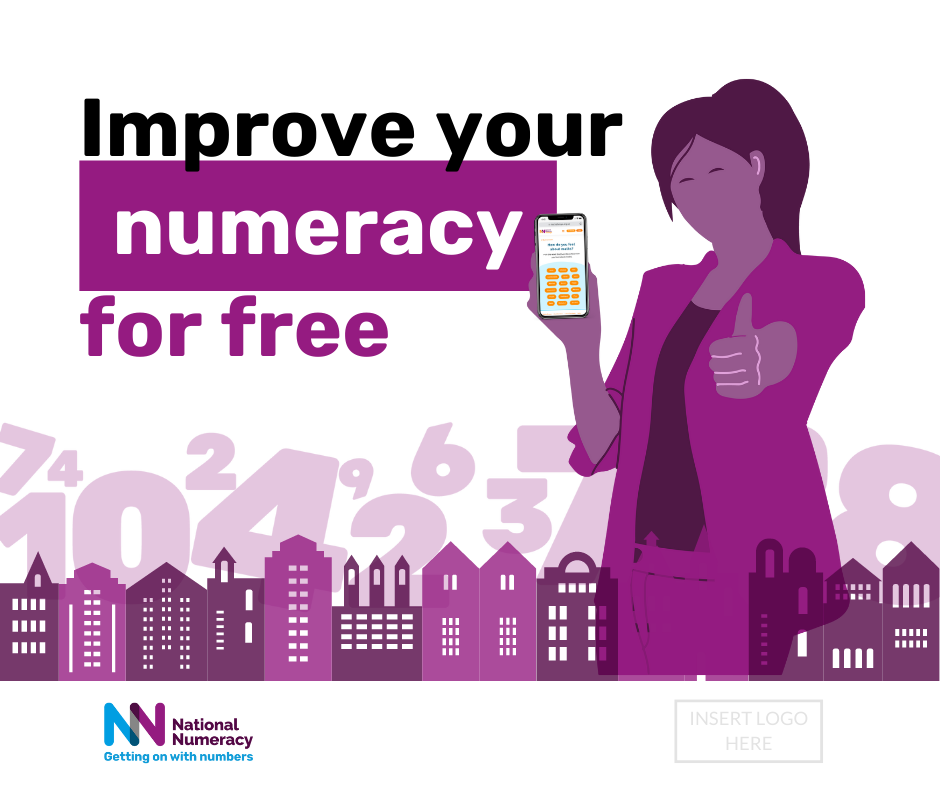 Overcoming maths anxiety
Many of us struggle with using numbers. Here are our top tips to help overcome maths anxiety.
Getting confident with maths at work
No matter what job we have, we use maths every day. Here are some things you can do at work to help make numbers less daunting.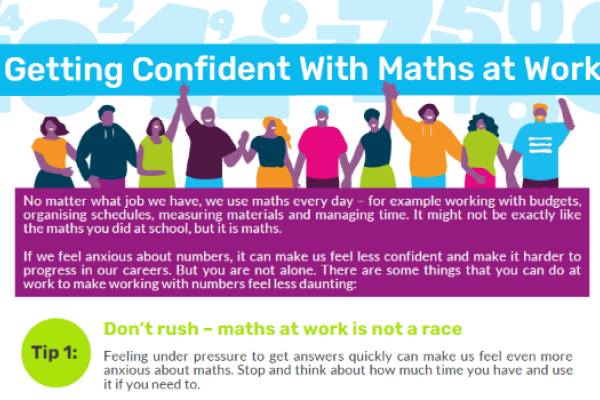 Top 4 tips to help children love maths
All families can make a difference to their children's maths learning by following these top tips.