How to encourage parental engagement
Engaging parents and carers with their children's education leads to raised attainment at school. It can also improve children's behaviour and school attendance.
In primary schools, family influences have a bigger impact than school on children's attainment. And the research shows that children are more motivated to learn about maths when their parents talk with them about the numeracy in everyday life.
So engaging families in their children's maths learning can reap big rewards.
Find out more about National Numeracy's Parental Engagement Programme for primary schools
Key recommendations for schools
Make sure that parents, carers and staff know how important parental input is. It can make a big difference to children's achievement.
Make parental engagement a target for staff. Everyone has to be on board for it to work.
Offer clear information and advice for parents, in different languages where needed. Use technology to reach parents.
Recognise that many parents and carers will be anxious about maths. Support them to build their confidence with resources such as the National Numeracy Challenge.
Let parents know about their child's successes as well as any problems, so that they don't associate school contact with bad news.
Make sure that the school promotes positive attitudes to maths for families. For example, maths displays around the school, maths stories or maths days.
Be approachable! Listen to parents and share things with them in a friendly, supportive way.
Use National Numeracy's parental engagement audit tool to start planning your school's approach.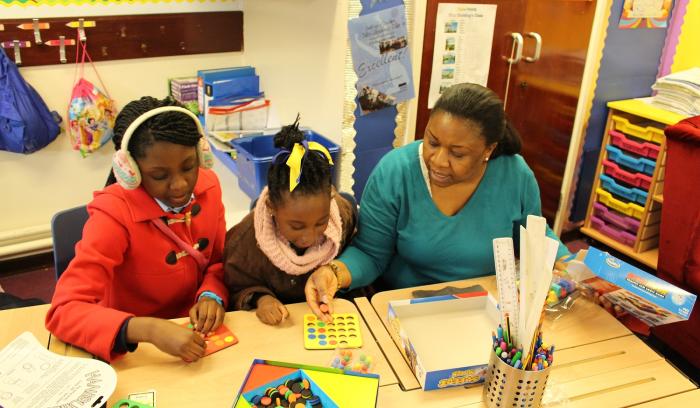 Reaching all families
"Parents who are viewed as 'hard to reach' often see the school as 'hard to reach'." – Engaging Parents in Raising Achievement: Do Parents Know They Matter?, Professor Alma Harris and Dr Janet Goodall, 2007
Make your school a safe and inviting place. For instance, training reception staff in diversity and inclusion can be a simple way of making more families feel welcome.
Ask families what they want. How do they like to be communicated with? What times and days are best for them to come into school? Is there any support the school can offer them with literacy, IT skills or CV writing, for example?
Offer family learning provision – support parents and children together.
Try to involve fathers and other family members as well as mothers.
Make connections with local organisations to reach families who have more complex needs.
Use volunteers of different genders and from different backgrounds who parents may feel more comfortable engaging with. Take a look at our Parent Champions tips below for more ideas.
Don't give up! With the right support in place, any family can engage.
Parental Engagement Programme
We can help you engage parents at your school. 
National Numeracy's parental engagement programme aims to support schools in developing their parental engagement strategies, in order to improve the confidence of both children and parents/carers in maths, and to help parents build a positive relationship with their children's learning.
As part of the programme, we offer workshops for parents, intermediaries and teachers, materials to communicate the project to parents and resources for families. 
Get contact details and find out more about how we can help.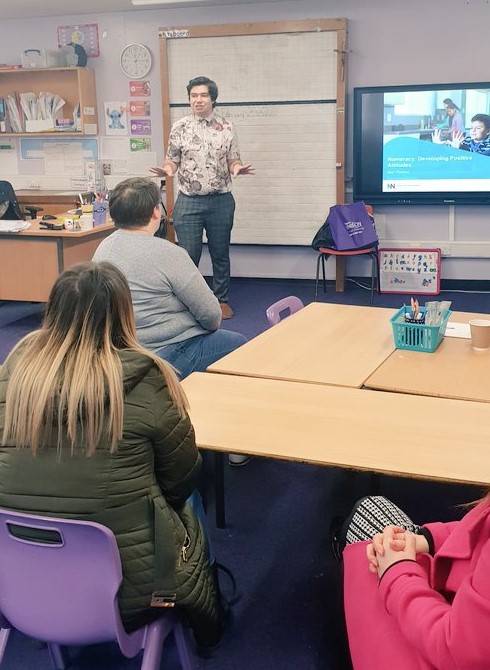 Parent Champions
Having a Parent Champion can be useful to support parental engagement in your school. This doesn't have to be someone who is good at maths, but simply someone who can help the school to work with parents. It could be a member of staff or a member of the school community.
Aims of a Parent Champion
To help parents feel comfortable engaging with the school
To support parents in engaging with their children's learning
To promote positive attitudes towards maths among parents
To help raise the profile of maths across the school community
Who should a Parent Champion be?
It could be any member of your school community: a senior member of staff, a school governor, or an enthusiastic teaching assistant! It could be your maths lead or a member of staff who is a point of contact for parents.
Some schools work with volunteers who are members of the parent community.
Different approaches may be suitable for different schools.
Whoever you choose, make sure they work alongside the maths subject lead in spreading the word about maths. They will also need support and commitment from the school's senior leadership team.
Anyone in the role of Parent Champion will need to be positive about maths learning, able to take initiative and able to work with parents, teachers and children. They will also need to be familiar with the school and its community.
What could the Parent Champion do?
Encourage all parents and carers to be actively involved in their children's learning of maths.
Work with parents and staff on strategies to enable all parents/carers to access school events and maths activities.
Encourage the use of  

Family Maths resources

for all families.
Promote any planned maths activities to parents and carers.
Support parents/carers in getting involved with activities.
Support parents/carers to improve their own maths confidence by using the National Numeracy Challenge.
Help the school gather feedback from parents and carers, ensuring all families have a voice.
Raise awareness among staff and parents/carers about how to talk positively about maths and pass on positive attitudes to children.
Promote and encourage opportunities for maths outside the classroom, within the local community and at home.
Other resources
Find some other resources to help families engage with maths together.