National Numeracy Day Toolkit
Welcome
Thank you for getting involved with National Numeracy Day!
With your support we aim to help more people than ever build their confidence and skills with numbers this National Numeracy Day, 18 May 2022.  
You can start promoting the day by using the content on this page to get others involved.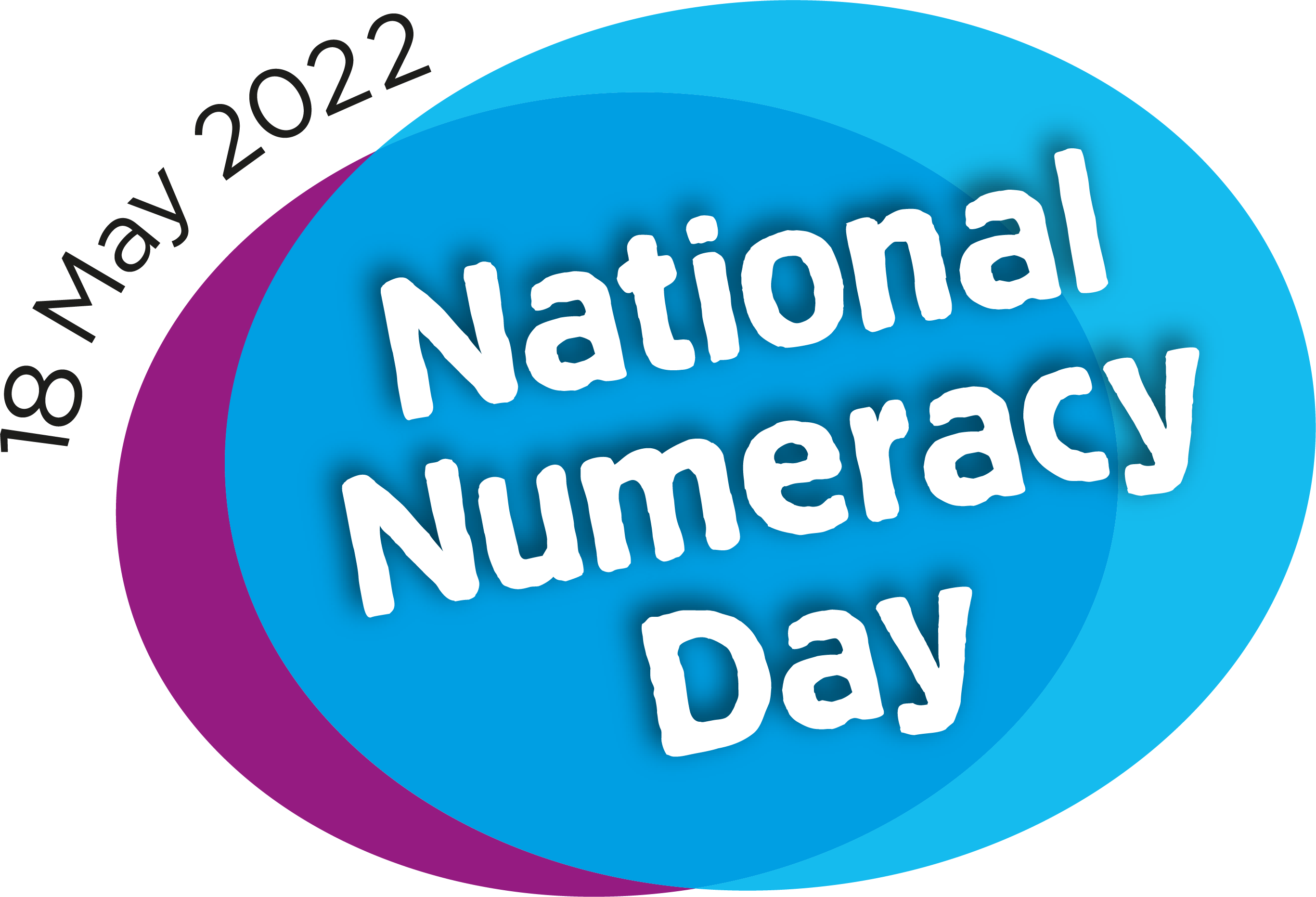 Your Big Number Natter resources
The Big Number Natter is the first ever nationwide conversation about numbers. It's an opportunity to have a chat about numbers and change lives for the better. The story behind your lucky number, tips for bagging a bargain, calculations in your career or helping kids with homework…love it or loathe it, everyone has something to say about maths!
Whether you need ideas for quick conversation starters and helpful video examples, simple step-by-step sessions for the workplace or social media filters, you can use the resources below to get everyone in your organisation nattering about numbers.
Plan your session
Get started planning your Big Number Natter sessions with these notes for organisers. Then get stuck in to all the other resources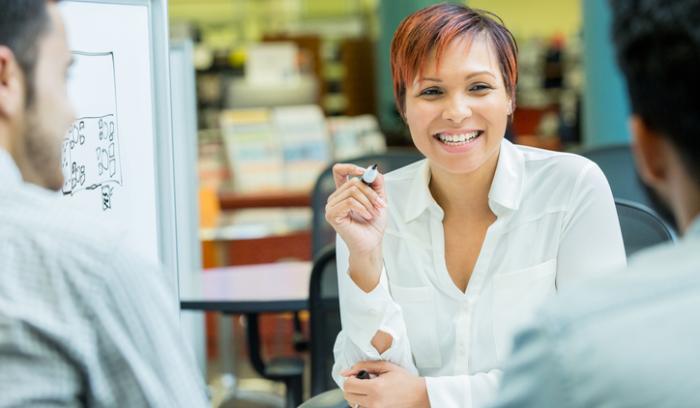 Join the conversation: Your Number Natter Slides
Hold a 15-30 minute session for your colleagues using these slides.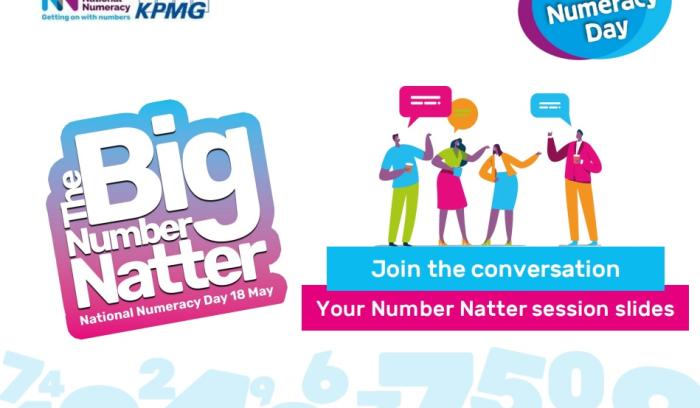 Quick Number Natter talking points
Use these ideas to spark a less formal conversation about numbers.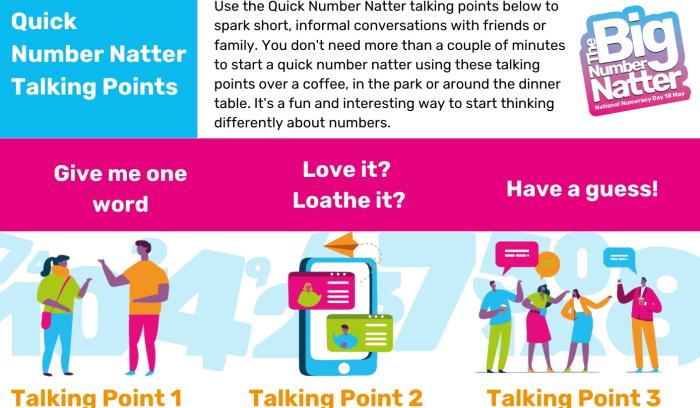 Find out how to talk about numbers
Get some expert help from our Senior Training Officer Beth Barnes.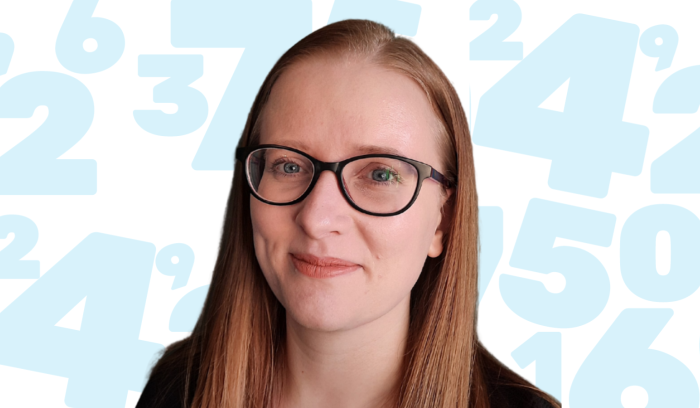 Ideas for Number Nattering on social media
Use these ideas to encourage everyone to follow up on your session with some social media ideas for individual Number Natters.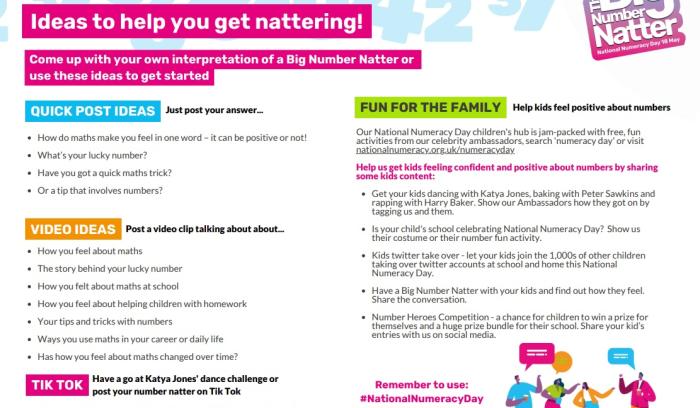 Graphics: Promoting the wider Number Natter
Throughout National Numeracy Day, we will have a series of exciting events and natters happening across social media. Download the line-up graphic and events poster and use the text template below, to spread the word and let people know what we've got planned!
Download the online events poster 
Text template:
It's National Numeracy Day on Wednesday 18 May, and there's a #BigNumberNatter happening across the internet! Head to https://www.nationalnumeracy.org.uk/numeracyday/adults#BNN and find out how to join in yourself, alongside their exciting line-up of guests!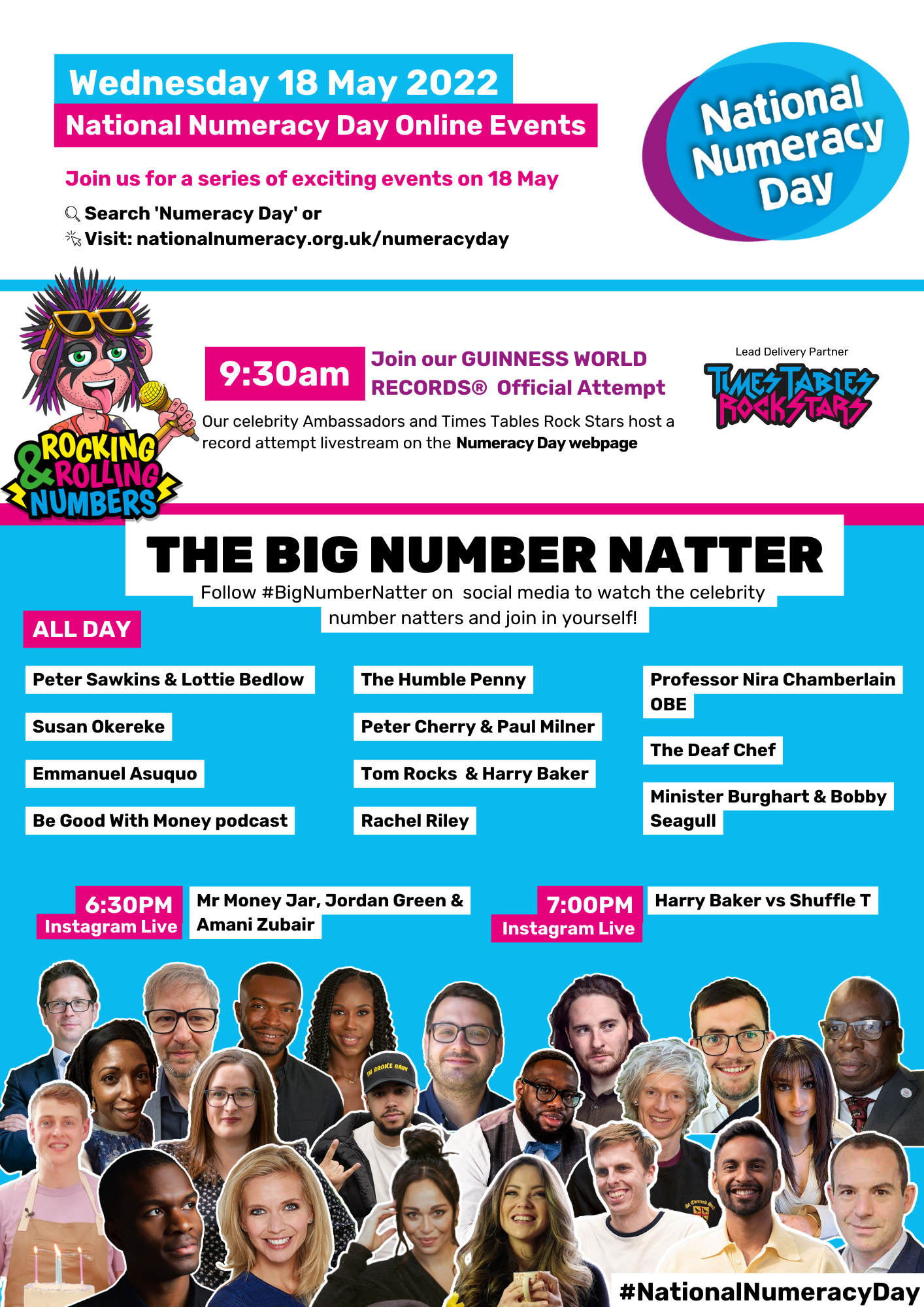 Graphics: Promoting the National Numeracy Day hub pages
The National Numeracy Day website is the go-to destination for individuals. It has two online hubs, one for adults and one for children, jam-packed with all the free resources and inspiration needed to get the nation feeling good about numbers. They hold helpful and practical resources to download, videos to watch, as well as details of live events and further support.

Please promote the National Numeracy Day website to your staff, networks and communities, using your campaign webpage trackable link, and the graphics below.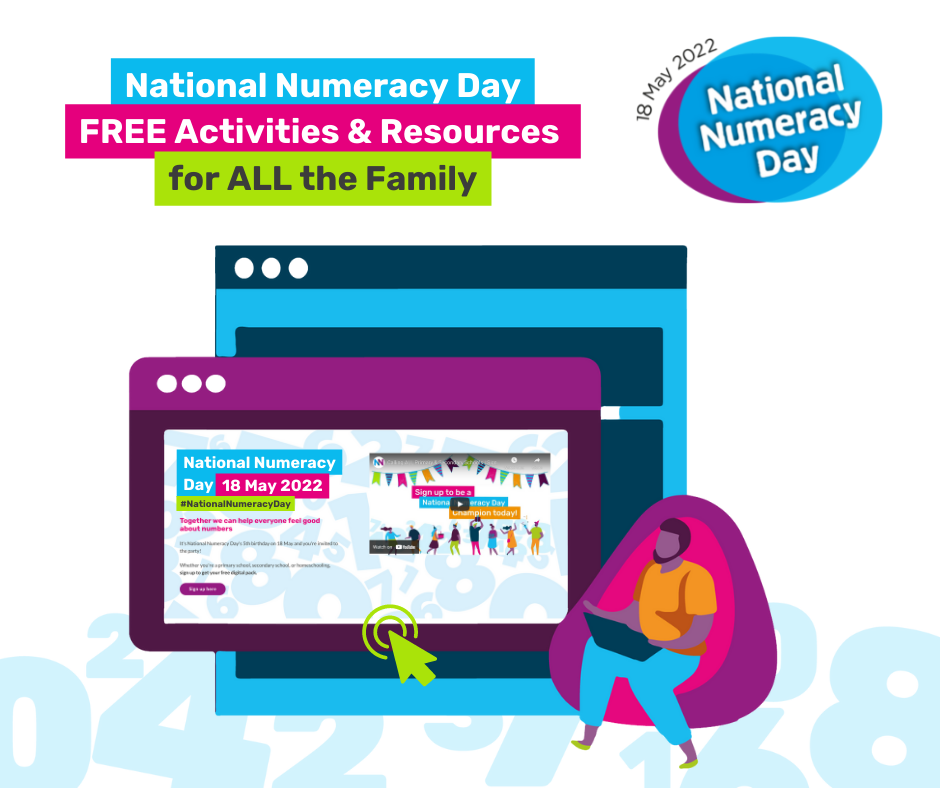 Graphics: Promoting the National Numeracy Challenge
The National Numeracy Challenge is an online tool that builds numeracy skills and confidence, with 300+ everyday maths questions and tutorials, multimedia resources, technology that adapts to individual learning levels and signposting to further support.
The Challenge is the perfect next step after your staff have had a Big Number Natter or to support any internal activity. It's also a great way to boost the number confidence of your external audiences, customers and service users.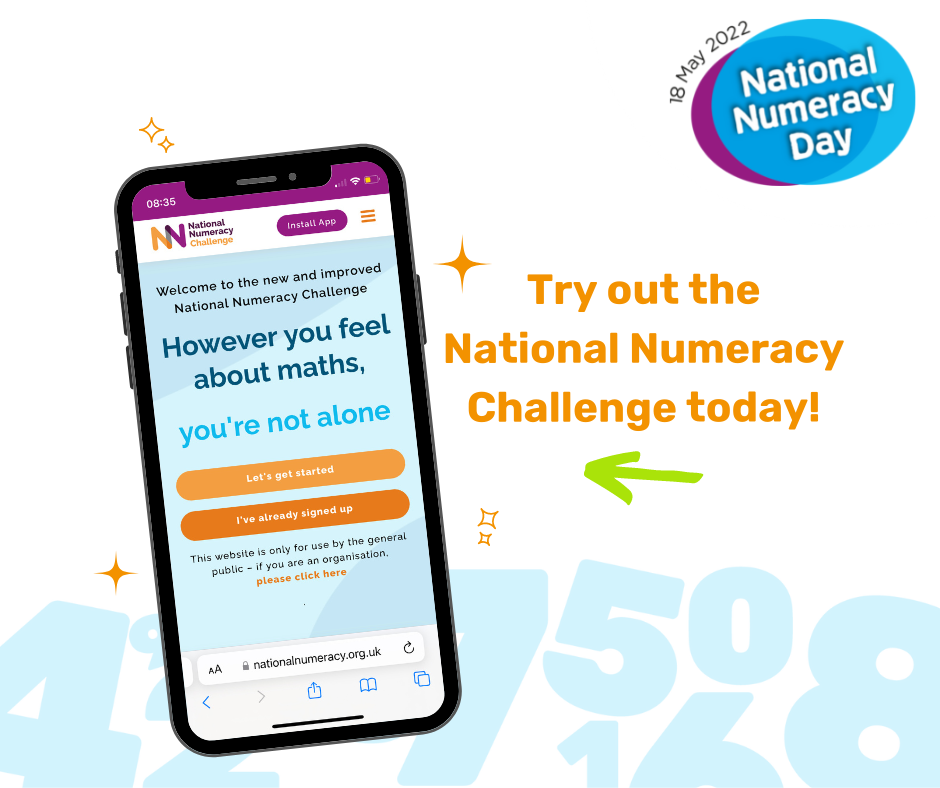 Graphics: Recruit National Numeracy Day Champions
Get other organisations and schools on-board with National Numeracy Day, tell them about becoming a National Numeracy Day Champion! Use these assets to get the word out on your social media channels. 
Text templates: short
For schools:
Thousands of schools are signing up to be #NationalNumeracyDay Champions. Sign up to get your free digital pack of resources and activities, including an amazing competition for your school.
www.nationalnumeracy.org.uk/champsunder18
For organisations:
Thousands of organisations are signing up to be #NationalNumeracyDay Champions. Sign up your org and get a free digital resource pack. Together we can help adults in the UK feel good about numbers.
www.nationalnumeracy.org.uk/champs18plus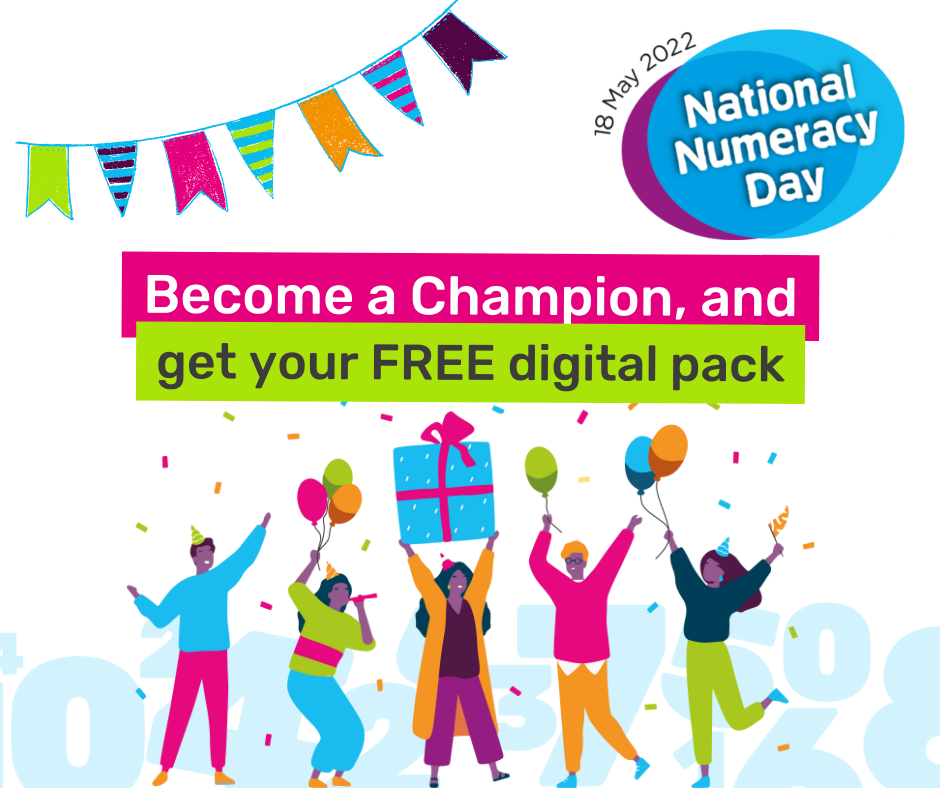 Text templates: longer
For schools:
Let's get number confident on National Numeracy Day, 18 May 2022!
We're excited to get involved with National Numeracy Day, the UK's only annual day dedicated to everyday maths. When supporting children, brushing up on our own number confidence and skills can help.
Join us and over 2,810 others helping the nation get on with numbers, by signing up at www.nationalnumeracy.org.uk/champsunder18, and in the build up to 18 May you will receive free, fun materials and resources to use and share. 
You will also have access to the School Number Heroes competition – get the children around you thinking about how they'll use numbers when they grow up for a chance to win a fantastic prize for themselves and a prize bundle for their whole school!
For organisations:
We are delighted to be getting involved with #NationalNumeracyDay on 18 May! We want to empower all our staff to improve their number confidence and skills. Whether for home finances, work and supporting children in your care to learn, building your own number confidence and skills can help.
Join us and over 2,810 others helping the nation get on with numbers by signing up at www.nationalnumeracy.org.uk/champsunder18, and in the build up to 18 May you will receive everything you need to support adults. Join us and together we can help adults in the UK feel good about numbers.
Sign up here: www.nationalnumeracy.org.uk/champs18plus
Be sure to tag us in any social media activity and use #NationalNumeracyDay so we can see and share what you're up to! You can find us on: