News
Join us for National Numeracy Day
30 Jan 2023
National Numeracy Day raises awareness of the importance of numbers in all our lives. The annual campaign, made possible by Founding Supporter KPMG, empowers adults and children to improve their everyday maths skills and confidence.  
In the build up to the day - 17th May 2023 - can you help us shout about the campaign in your workplace, education setting or community? 
Together, we can help EVERYONE feel good about numbers.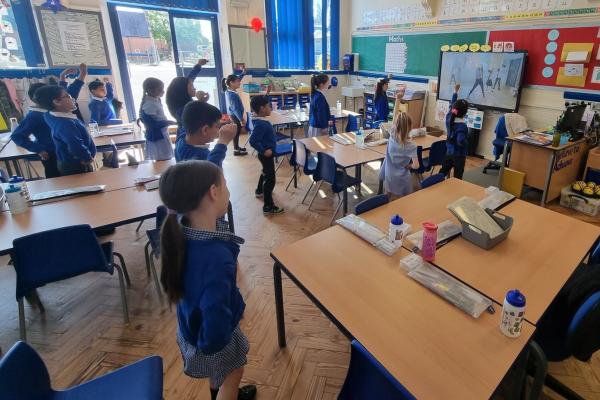 How do I get involved with National Numeracy Day? 
Over 4,000 schools, colleges, nurseries, clubs, employers, businesses and individuals have signed up to support National Numeracy Day, and you can too! They aim to help their communities of students, staff, members or friends and neighbours, build confidence with numbers as part of National Numeracy Day using our resources and our comms toolkit. 
In this way, you can help the campaign reach more people by shouting from the rooftops about it. Well, not literally! You may simply put up a poster, share a social media post, send an email or start a conversation about numbers. 
In return, you're the first to receive information about the activities, competitions and videos that are involved in the campaign. Watch last year's National Numeracy Day highlights video for an idea of what to expect. 
What do I need to do? 
We provide you with all the information and resources you need. All we ask is that you help to spread the word by sharing them. 
Our resources have been developed by experts to help adults and children build their confidence with numbers. They include things like conversation-starters about numeracy, and our Big Number Natter step-by-step guide, with presentation slides and posters. 
By getting these to the people who need them, and by promoting the National Numeracy Challenge, you'll be empowering adults and children to feel more confident with numbers across the UK, and that is amazing! 
What do I receive? 
Once you're on our mailing list, as soon as it's ready we'll send you: 
Our Toolkit containing the campaign guide, activities for schools, resources for adults, messaging and images to use on social media. 
Email updates about any new content we're ready to share as we build up to National Numeracy Day. 
Early access for schools for our fantastic Number Heroes Competition, where your class could win prizes worth thousands of pounds. Have a look at last year's results and gallery here. 
And it's a two-way street! We'll champion your news and activities too.
Just tag National Numeracy in your social media posts or drop us an email to let us know what you're up to:
We hope you'll join us to help the nation get on with numbers!