Training and workshops
Together we can help adults overcome low number confidence and fulfil their potential. National Numeracy offers a unique suite of training courses and workshops using our attitudinal approach to improving numeracy.
Aimed at supporting adults with low confidence in their number skills, these sessions do not teach maths skills but instead aim to build confidence, change mindsets and introduce resources to support skills learning.
Negative thoughts, feelings and anxieties around maths often hold people back from even engaging with numeracy upskilling. This makes our attitudinal approach critical in supporting those with the lowest confidence.
For more information please contact [email protected]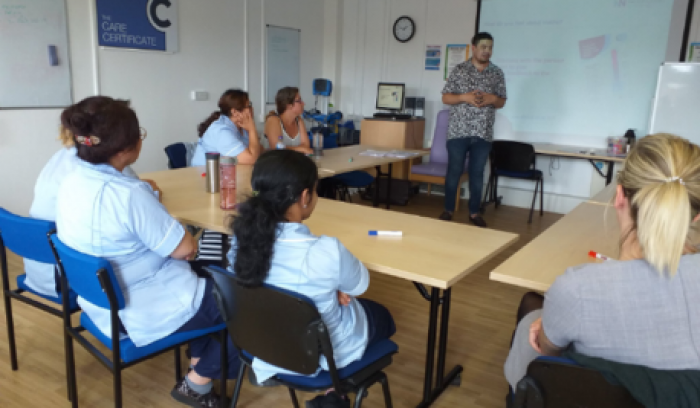 Training for organisations seeking to support people with numeracy
Becoming a Numeracy Champion: Myths, Mindsets and Driving Change
The Becoming a Numeracy Champion programme is designed to help organisations support their staff, students or customers with numeracy using an attitudinal approach.
It is ideal for Learning & Development teams, tutors, HR staff, Union Learning Reps and others who take a role in supporting adult numeracy. 
The course is delivered over half a day. Participants will gain:
Knowledge of the issues around numeracy in the UK
An understanding of common thoughts and feelings around maths, including maths anxiety, how they affect people and how they can be overcome
Familiarity with activities using our "Value, Belief and Persistence" model to support learners with low confidence
An understanding of how tools provided by National Numeracy can be used within their organisation
Support for developing an Action Plan for their own numeracy project, which participants commit to running to ensure their learning drives change in their organisation
All participants will also receive a training pack, certificate and 4 CPD points.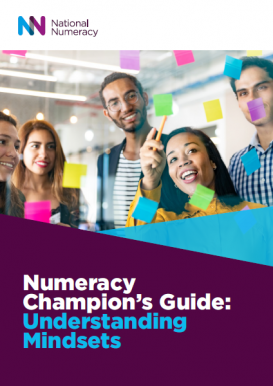 Becoming a Numeracy Champion: Busting Myths and Changing Mindsets Online
The programme can also be provided digitally using Zoom. Covering the same themes, it is delivered as a series of four virtual interactive workshops, lasting for an hour and a half each: 
Numeracy: Culture, Maths Anxiety & Impact 
An Attitudinal Approach: Value, Belief & Persistence
How to Implement a Numeracy Project 
Taking Learning into Practice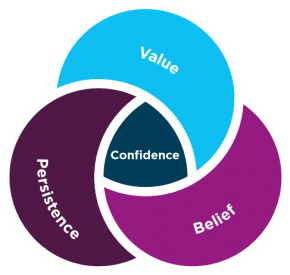 Participants are also provided with a digital workbook, containing short activities to complete between sessions to help them to reflect on and solidify their learning as part of their digital training pack.
On completion of the course and the workbook, participants will get a certificate and 4 CPD points
Workshops for adult learners
Numeracy: Busting Myths and Changing Mindsets
These sessions are aimed directly at adult learners who experience low confidence and negative feelings around maths.
The workshops aim to help people change their mindset and move away from thinking "I hate maths, I won't do it," towards thinking "I will give it a go." Supporting people to overcome their psychological barriers makes skills learning accessible to them.
The interactive workshop runs for one hour and includes short activities designed to get people talking about their feelings towards maths, question their beliefs and address the myths that may be holding them back. We then introduce the National Numeracy Challenge as a way to upskill without pressure.
This approach has proven successful in motivating people to improve their maths skills independently through the National Numeracy Challenge – without any direct maths teaching at all.
Numeracy: Busting Myths and Changing Mindsets Online
Our direct-to-learner sessions can also be delivered as online interactive workshops through Zoom.
The session has the same objectives and covers the same content as the traditional session, but is delivered in an adapted way to suit the digital environment.
This option gives you the flexibility to invite learners from a wide geographical area, without having to leave their homes or offices.
Workshops for parents, carers and guardians
Numeracy for Parents: Supporting Positive Attitudes
Parental engagement has a large and positive impact on children's maths learning, but for many parents the idea of helping their children with maths feels uncomfortable.
This session helps parents learn about ways that they can help their children by engaging with their learning, and support their children in developing positive attitudes.
In the workshop, participants will:
Explore their own thoughts, feelings and anxieties around maths – helping them to change their own mindset
Learn how to point out the maths in the real world to children and why this is important
Understand the significance of talking positively about maths and find out how this can be done
Discover the importance of praising children for effort rather than talent
Be introduced to helpful resources from National Numeracy, such as the National Numeracy Challenge and the Family Maths Toolkit
The workshops run for one hour and are suitable for parents or carers of children at primary-school age.
Video: Talk on developing confidence with numbers
Watch our Training Development and Delivery Lead, Ben Perkins, talk about how we can develop confidence with numbers.
Contact us
For more information about our training and workshops, or for a quote, please contact [email protected]