Ten years of impact at National Numeracy
In 2022 we celebrate 10 years of National Numeracy, the UK's only charity dedicated to everyday maths
Over the past decade, National Numeracy has supported hundreds of thousands of people across the country to improve their number confidence and skills. 
On this page you can discover a suite of materials detailing the impact of a decade of work to improve the numeracy of individuals, communities and the nation.
Report: A decade of impact, 2012-2022
From families navigating the cost-of-living crisis and businesses searching for skilled staff to communities recovering from the Covid pandemic and the quest for greater national economic, educational, and social equity; numeracy is fundamental to the fabric of our lives and future of our nation.
Together, we have made much progress. But the data shows the need to address low numeracy at the national level is as critical today as it was a decade ago, and the benefits could be more powerful than ever.
This short report combines the findings of new YouGov research with some of our impact stories and reflections on a decade of working to build a numerate nation from partners and beneficiaries.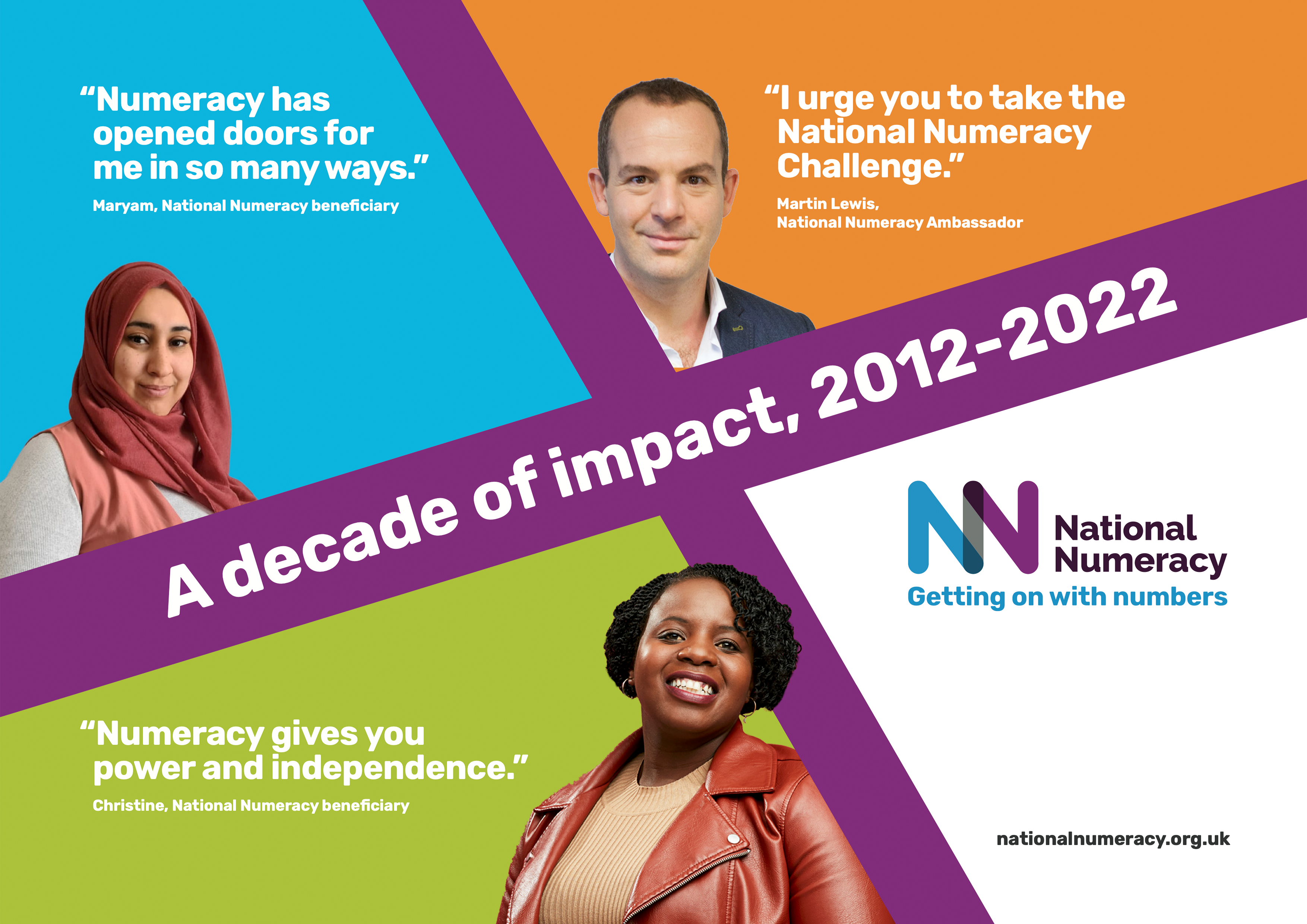 Video: Real impact on real lives
How does improved numeracy have a positive effect on real lives?
We have been curious about how people feel about maths. We have sought to understand their backstories, their motivations, the barriers in their way and their routes both into and onwards from improving their numeracy.
Watch this short video of some of the people we have worked with talking about their experiences of gaining confidence with numbers and building number skills.
Research: Numeracy levels and attitudes towards maths and numbers
National Numeracy commissioned a YouGov survey to assess attitudes towards and confidence with numbers. 
The survey found that people in the UK are over-estimating how good they are at maths, despite the cost-of-living crisis making number know-how more crucial than ever.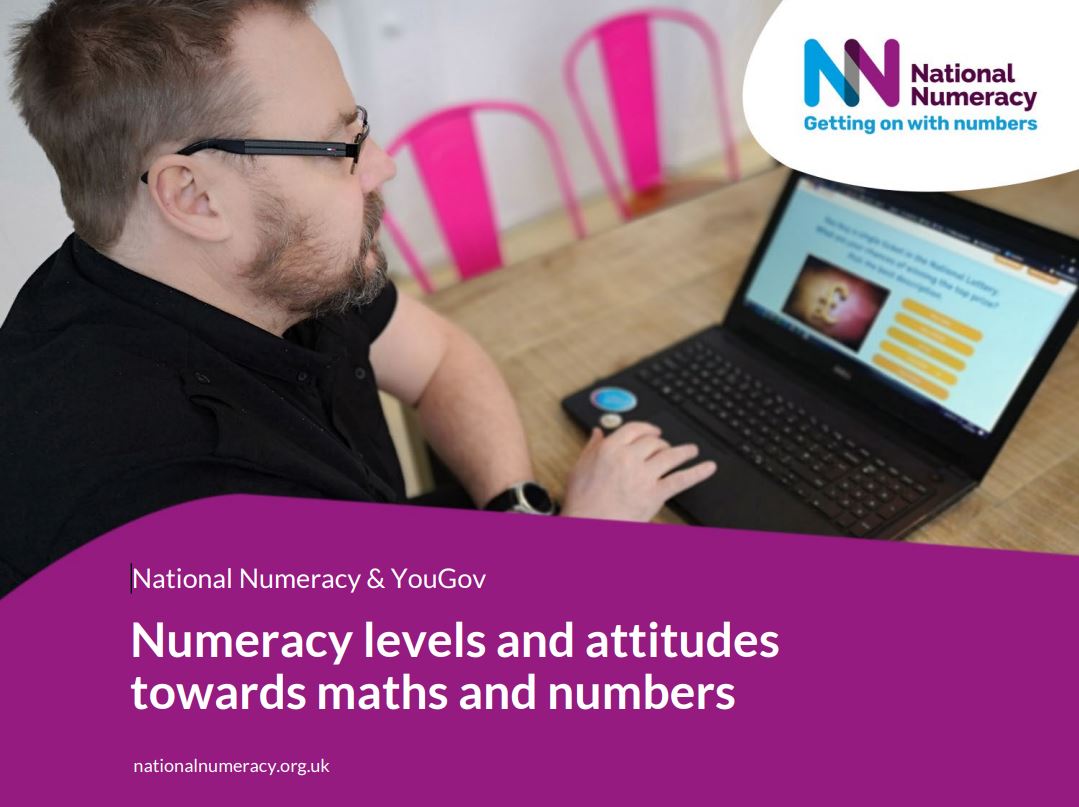 Partners talk about their work with National Numeracy 
During our first decade as a charity, we have been lucky to collaborate with a wide variety of partners and supporters. Below you can find some case studies and comments about our work together.
Amazon Web Services
Since 2019, Amazon Web Services have enabled access to our digital provision, including the National Numeracy Challenge. This important gift-in-kind means we're able to host all our digital tools at the same domain, allowing us to store our data more securely, efficiently manage our data and build a stronger platform to grow our search engine optimisation. This support has also been fundamental to the amazing success of National Numeracy Day, as we're able to confidently manage the huge spikes in traffic from this campaign.
"Amazon Web Services (AWS) is delighted to be associated with National Numeracy and their work in addressing the matter of poor numeracy and elevating the understanding and importance of the issue at the national level. We're proud to also be part of the team helping to tackle the nation's numeracy problem as a Founding Member of the National Numeracy Leadership Council."  – Vincent Dupre, Account Manager
Capital One
Aligned to our core mission of addressing social mobility, Capital One and National Numeracy partnered earlier this year to unlock opportunities through impactful corporate volunteering and investment in research. Start-up funding from Capital One has enabled us to design and develop an effective, targeted national volunteering programme, which we will be launching later this year. This programme will offer both reach and high impact, while building a community of champions with an understanding of the numeracy problem and how to address it. Capital One's commitment to invest in our research has enabled National Numeracy to begin generating fresh insight, which will be critical in scaling-up and strengthening our vital work.
"When we identified numeracy skills as a new CSR priority in 2022, partnering with National Numeracy was an obvious choice to help us maximise the impact we could make in this space through supporting their campaigning and awareness raising activity. The partnership is already helping breathe new life into our CSR strategy, engage our employees in new ways, and help us think how we can build numeracy skills into how our business is a force for good in society. Thank you, National Numeracy, for your partnership and guidance in the short time we have worked together so far, and many congratulations on your 10th anniversary." – Dave Richards, Head of Corporate Responsibility
Experian
Working together, Experian and National Numeracy have hugely increased the take-up of numeracy skills and confidence-building initiatives for financial inclusion. Far-reaching communications, deep-impact learner workshops and staff volunteering have been at the centre of driving the use of our innovative resources and engagement with our campaigns. Over a number of years, our partnership has gone from strength to strength. By combining knowledge and datasets, together we developed the UK Numeracy Index; the first ever model to predict and rank areas of the UK by numeracy skills and confidence. This will provide crucial insight for us and others to achieve significant impact by targeting efforts to improve numeracy where the need is greatest for years to come.
"Experian is tremendously proud to have partnered with National Numeracy since 2018, in particular working together on the hugely successful National Numeracy Day. The decision to partner was a natural fit with Experian's mission to promote financial health, considering the established link between good numeracy and financial wellbeing. We are really excited to have worked with National Numeracy to create the first national view of UK numeracy vulnerability. This exciting project will help National Numeracy and many other organisations target numeracy support and interventions where it is needed the most. I can speak on behalf of everyone involved with National Numeracy at Experian that it is an absolute pleasure to work with Sam and his team, who are so passionate, hardworking and truly making a difference. Many congratulations on reaching this 10 year milestone." – Mark Lindsay, Development Manager
Frimley Health NHS Foundation Trust
"At Frimley Health NHS Foundation Trust, there was an identified need within the organisation to support our workforce with Functional Skills development – in particular with maths.
The current process wasn't working as effectively as it could. Introducing National Numeracy gave another layer of support which really helped people with their development and commitment to their Maths Functional Skills, and their learning.
We now have had a long standing successful relationship, and have worked collaboratively in developing a session that could be used to start conversations on how people think and feel about maths, exploring anxieties and changing mindsets. This has led to numeracy champions and campaigns across the organisation. We have seen an increase in the number of people committing to functional skills programmes and achieving great results. For some this is the steppingstone to building their confidence to step onto higher level apprenticeships including the Nursing Associate and Registered Nurse Degree, which they may not have believed they could achieve before."
Health Education England
Numeracy is a challenge for multiple professions across the NHS. For those who do not feel confident, the impact can be crippling and have knock-on effects for colleagues and patients. National Numeracy has worked in the NHS via its partnership with HEE for many years, helping professionals face their fear of maths and getting them ready to take the necessary steps to addressing it. This is a vital step in the development pathway because until people feel able to face their maths anxiety, they often shy away from it, which means the challenge perpetuates. National Numeracy's champions programme has given many people in the NHS the tools to help themselves and others feel more confident about maths.
KPMG
National Numeracy and KPMG have worked together to improve the life chances of people throughout the UK since 2018. Unlocking social mobility through addressing poor numeracy sits at the heart of our partnership. That year, we launched National Numeracy Day, the UK's only national campaign dedicated to everyday maths. Since then the campaign has grown exponentially and as Founding Supporter, KPMG has been instrumental in extending its reach, profile and impact. The partnership has delivered impressive results through National Numeracy Day and through research projects revealing powerful information about the risks and opportunities related to the numeracy crisis in the UK.
"Numeracy is a vital building block helping improve social mobility, and in light of the cost of living crisis, it's more important than ever for people to have the number confidence they need to navigate day-to-day life. KPMG is delighted to support National Numeracy, the UK's leading charity dedicated to improving the nation's number confidence and raising awareness of the impact of poor numeracy skills on society. Together, National Numeracy and KPMG co-founded National Numeracy Day, which has so far brought together more than 2,000 organisations and encouraged hundreds of thousands of people to take action to improve their numeracy skills. Working with National Numeracy means working with a creative, engaged and ambitious team who are determined to move the dial on the UK's attitude to numeracy. We are so pleased by what we've achieved together and look forward to continuing our journey." – Roisin Murphy & Roisin Sharkey, Directors Co-Head of Corporate Responsibility
TP ICAP
For the last five years, National Numeracy and TP ICAP have partnered together to empower people to improve their confidence and skills with numbers. At the start of the partnership, we committed to an ambitious target of generating 250,000 engagements with the National Numeracy Challenge in just three years. Our partnership has already exceeded all expectations. In 2020, with TP ICAP as the Founding Supporter, we launched a Covid response campaign, Number Confidence Week to help people feel more confident and in control of the challenging circumstances they found themselves in at home, work and school. We are delighted to be working together again on Number Confidence Week 2022 and continuing our partnership to create tremendous, demonstrable impact at scale.
"Numeracy matters – for individuals, for families, and for society overall. That's why TP ICAP is proud to have supported National Numeracy since 2018. Engaging people to improve their numeracy skills and build their confidence with numbers is a critical part of fostering social mobility." – Richard Newman, Group Head of Marketing and Communications
Ufi VocTech Trust
Ufi VocTech Trust was formed as a charity in 2010, acting as a funding partner and essential friend to innovators in skills development, looking to help adults flourish in their working lives through the use of vocational technology. At National Numeracy we have enjoyed a fabulously fruitful relationship with Ufi since 2014 when we first bid for project grant funding. The work we have done together has included:
Creation of the numeracy app 'Star Dash Studios'
Projects to increase the reach and impact of the National Numeracy Challenge (which respectively saw 83k UK adults registering, and almost 25k improving their numeracy)
Playing a vital role in the introduction of our first annual National Numeracy Day campaign in 2018
Supporting the foundations for National Numeracy's extensive ongoing work supporting health care staff
Development work on the National Numeracy Challenge to ensure it provides a supportive experience for adults with low confidence, has become an enclosed bite-sized learning tool, includes an innovative adaptive 10-minute quick-check assessment, and 'questions wrong' resources to help adults learn, as well as the launch of the site as a web-app
… and our current project to establish a network of at least 500 Numeracy Champions in workplaces across the UK, who will support other adults in improving their confidence with numbers.
We've learned a lot along the way about how to run projects which maximise their impact, such as the importance of sticking to our mission, building-in extensive planning stages, setting realistic targets, making the most of the relationship with the funder, involving target audiences and listening to them at all stages, and using excellent data reporting to understand user behaviour and to measure our impact.
"Our work with National Numeracy has been hugely rewarding and in many ways our two organisations have developed together over the last ten years. They are a shining example of how a charity can use innovative digital technology to support adults in the workplace and raise awareness of numeracy across the UK. We are delighted to be part of the continued growth of this brilliant charity!"  – Louise Rowland, Deputy CEO
Vanquis Banking Group
Vanquis Banking Group is a pioneering partner, deeply aligned to our vision and a key contributor to our impact since 2018. Alongside a shared commitment to our core mission, our partnership has increasingly focused on helping people improve their numeracy for money management, with ongoing support for children and families. As a Strategic Partner, Vanquis Banking Group has helped us support thousands of disadvantaged adults to feel more equipped to manage their money and access financial resources. The partnership has also extended our Parental Engagement Programme to serve low-income communities with low levels of numeracy.
"Addressing poor numeracy is a cause that is both extremely relevant and aligned to Vanquis Banking Group's purpose of helping to put people on a path to a better everyday life and that every child can develop the numeracy skills they'll need, both at school and throughout their lives, boosting their education, skills, and aspirations. Through our partnership with the charity we've also been able to raise awareness of the importance of everyday maths to colleagues and customers alike; encouraging them to take the first steps to improving their numeracy so that they can get on in life. Working with National Numeracy also helps us to support UN Sustainable Development Goal Number 8 – 'Quality Education' – which seeks to ensure inclusive and equitable quality education and promote lifelong learning opportunities for all." – Cathy Prior, Social Impact Programme Manager