National Numeracy Day 2023
16 and over
Welcome to the toolkit for colleges and adults
Thank you for signing up to take part in National Numeracy Day!
The big day was 17 May but you can take part in everything for the rest of the month.
With your support, we can help more people than ever build their skills and confidence with numbers.

First things first!
To get the most out of your toolkit, please read our handy Campaign Guide. It contains detailed information about our National Numeracy Day activities and the different ways you can get involved.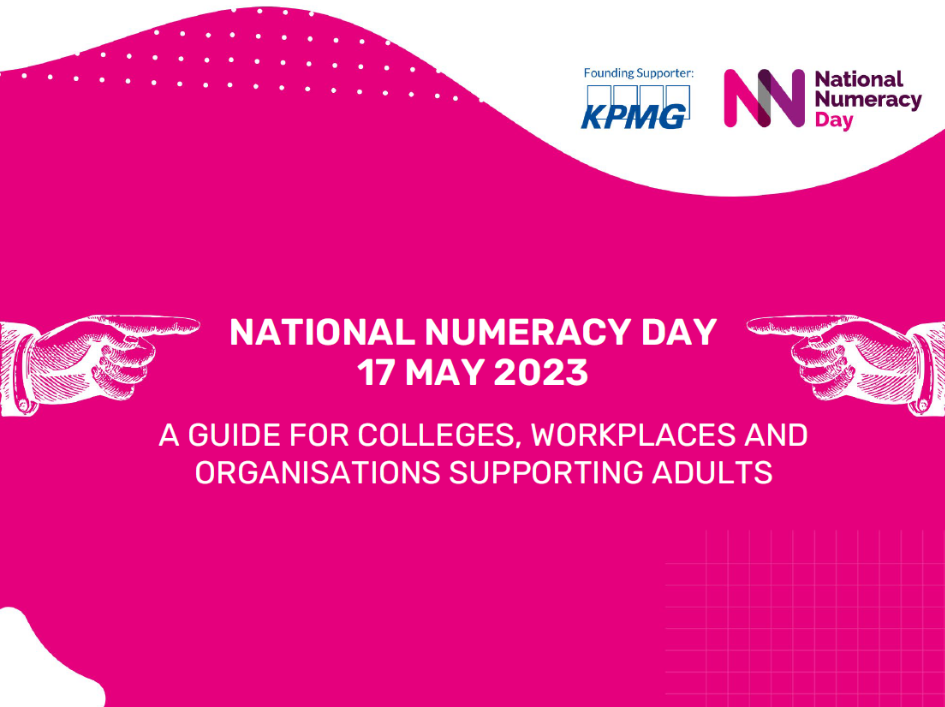 Your Big Number Natter resources
Watch our Number Natters:
Three conversations highlighting how numbers matter in our lives for work, managing money and helping children.
Everything you need to plan your Big Number Natter: 
Plan your session
Get started planning your Big Number Natter sessions with these notes for organisers. Then get stuck in to all the other resources.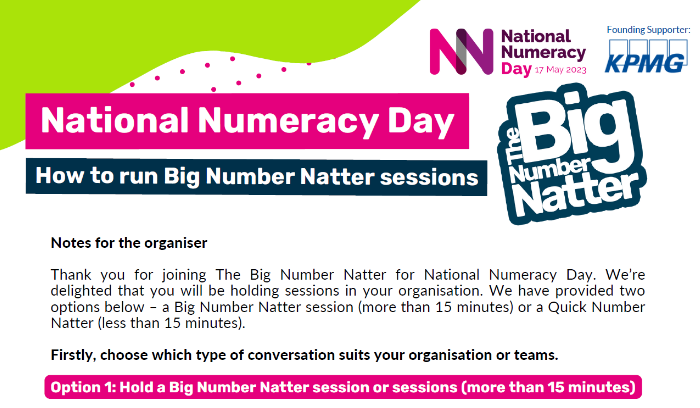 Your Number Natter Slides
Hold a 15-30 minute session using these slides, provided with presenter notes.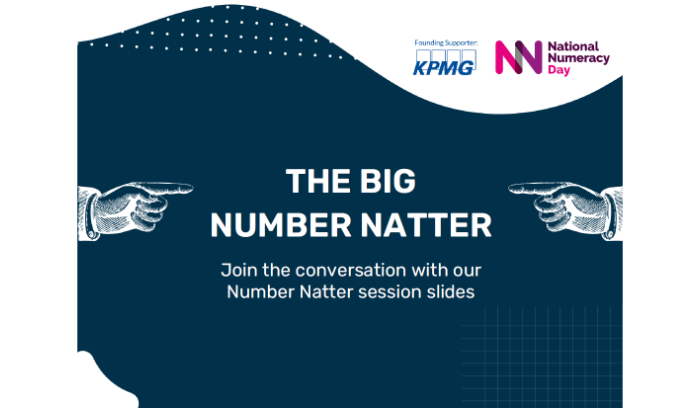 Quick Number Natter talking points
Use these ideas to spark a less formal conversation about numbers.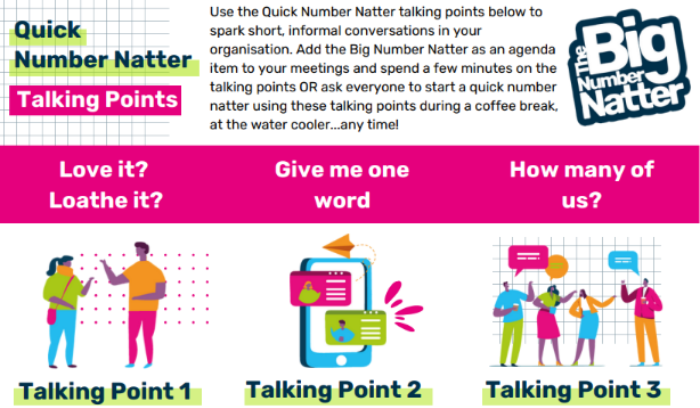 Ideas for Number Nattering on social media
Use these ideas to encourage everyone to follow up on your session with some social media ideas for individual Number Natters.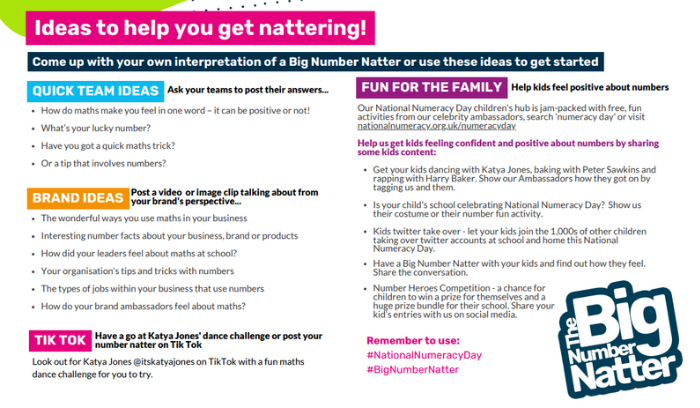 Find out how to talk about numbers
Get some expert help from our Training Officer Ishraq Li-Rahman.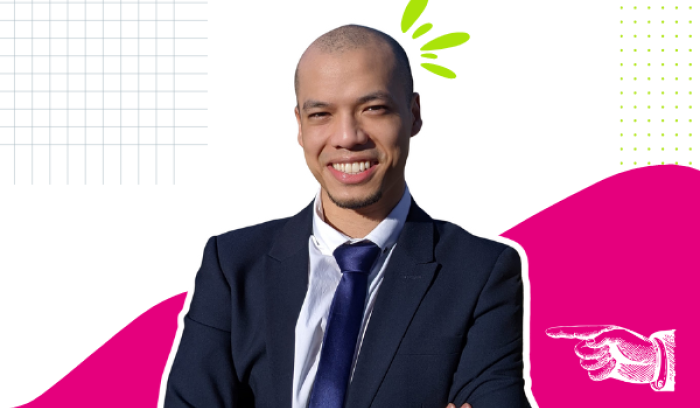 Tips for money management from Mr MoneyJar
Timi Merriman-Johnson provides some tips for managing your money; including budgeting, spending, saving, and confidence.
Get his advice from this video and keep it with you using this handy tip sheet. 
Iona Bain's tips for feeling better about numbers
if you or your child has dyscalculia
National Numeracy ambassador and finance journalist Iona Bain uses her experience with dyscalculia to share some advice on navigating the world of numbers, for adults and children alike.
Tips for talking to adults about maths
Talking about maths can be tricky and stressful if people dislike numbers. Here are some tips...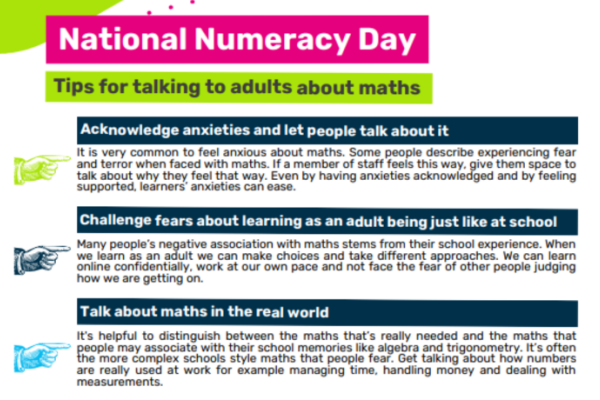 Overcoming maths anxiety
Many of us struggle with using numbers. Here are our top tips to help you overcome maths anxiety.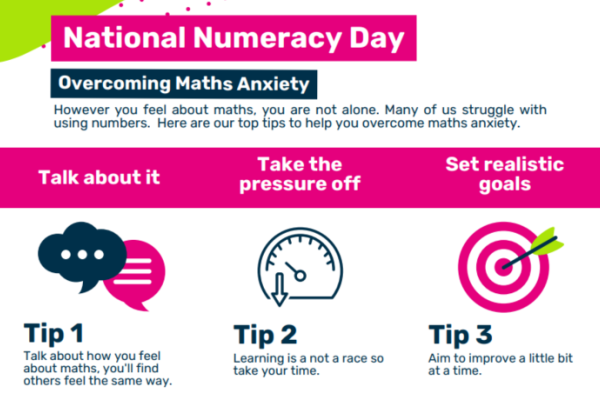 Getting confident with maths at work
No matter what job we have, we use maths every day. Here are some things you can do at work to help make numbers less daunting.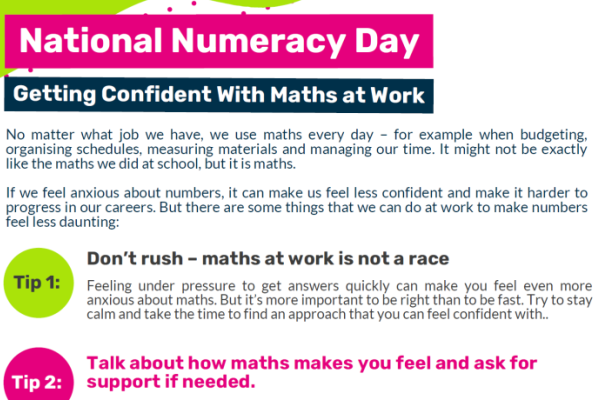 Top 4 tips to help children love maths
All families can make a difference to their children's maths learning by following these top tips.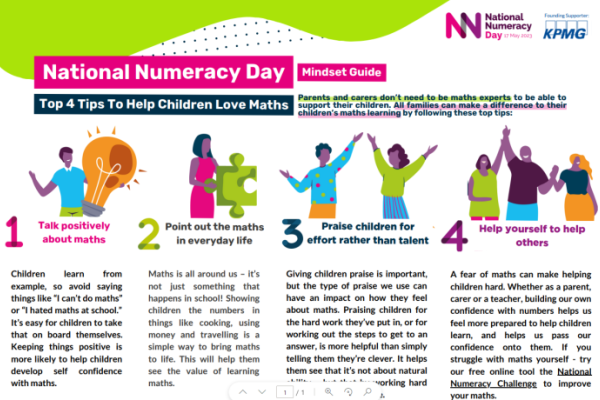 Be sure to tag us in any social media activity and use #NationalNumeracyDay so we can see and share what you're up to! You can find us on: