National Numeracy Day 2023 Secondary
Welcome to the toolkit for Secondary settings
Thank you for signing up to take part in National Numeracy Day!
The big day was 17 May but you can take part in everything for the rest of the month.
With your support, we can help more young people than ever build their skills and confidence with numbers.

First things first!
To get the most out of your toolkit, please read our handy Campaign Guide. It contains detailed information about our National Numeracy Day activities and the different ways you can get involved.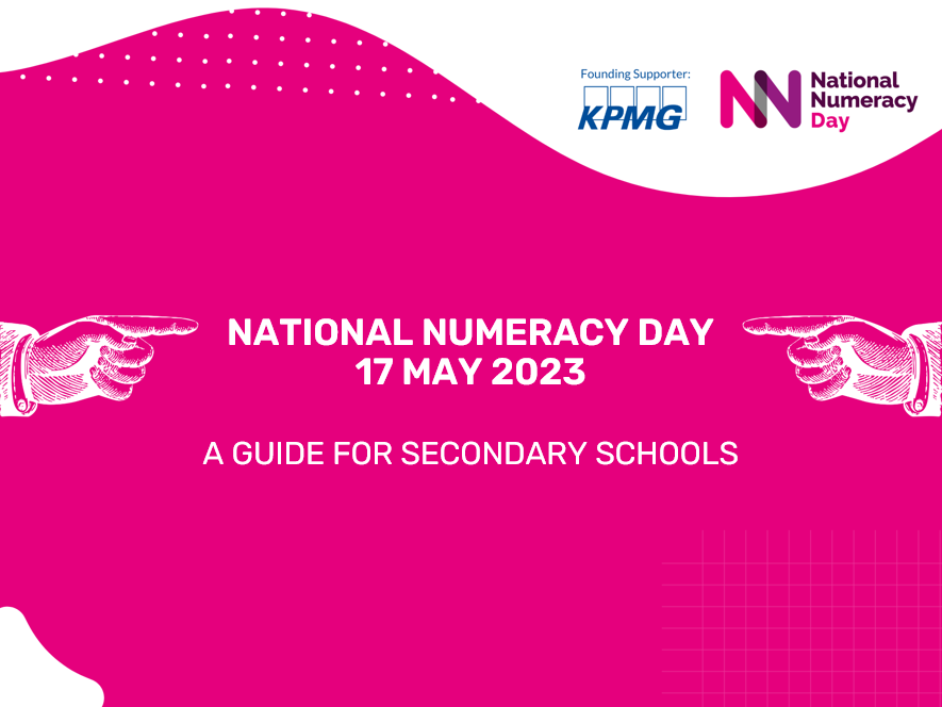 To help your planning:
Letter and email templates
Download these editable templates to help you spread the word and let staff, parents and carers know what you have planned for National Numeracy Day.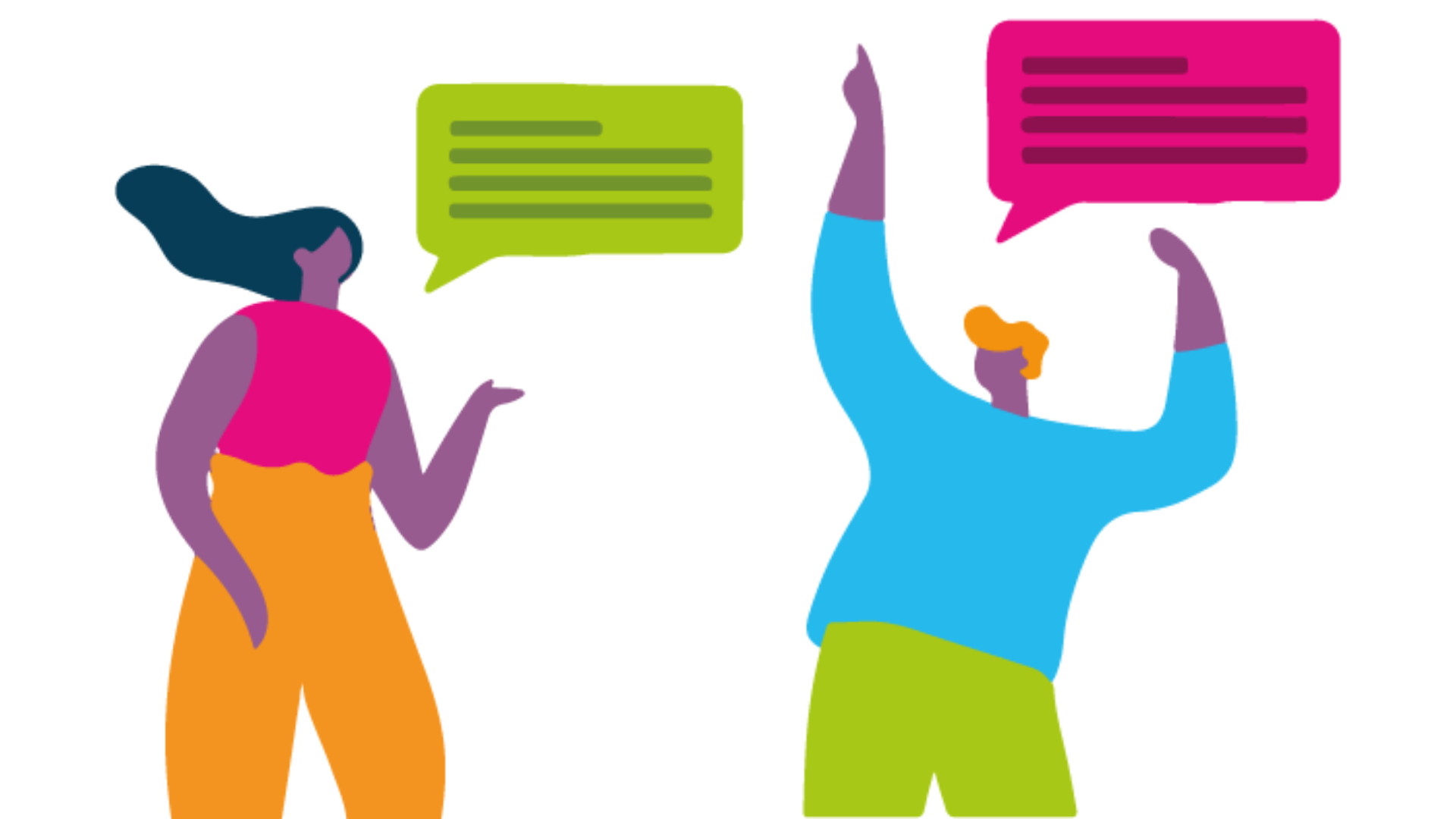 Posters and smartboard displays
Use these posters and smartboard displays around your school or youth group to get everyone talking about National Numeracy Day and the Number Heroes Competition.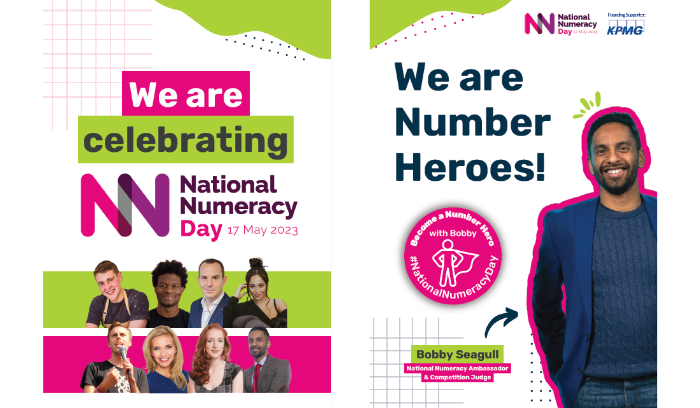 National Numeracy Day Live
WHAT? Bobby Seagull and Katya Jones hosted 30-minutes of non-stop number fun with West Ham United Foundation and BBC CBeebies Numberblocks in celebration of National Numeracy Day!
WHEN? Watch the recording anytime on the event page.
HOW? Download Bobby's Big Number Fun Quiz Sheet and answers from the event page.
Number Heroes Competition
Create a picture of you doing your dream job or hobby and tell us how it uses numbers. Let your imagination run wild and win a fantastic prize for yourself and a prize bundle for your nursery, school or youth group.
The 2023 competition is now closed. Winners will be contacted on or before 23 June 2023, and runners-up will be contacted on or before 5 July 2023.
Celebrity ambassador activities
All the downloadable activities below are up to date, but we're still working on the new videos. 
In the meantime, you can see and enjoy last year's videos below.
Numbers and Rap with Harry Baker
Poet and mathematician Harry Baker is back with his number rapping! Last year children up and down the country had huge fun rapping along with Harry and making up their own rhymes. He has created a new one for 2023. Take a look!
Numbers and dancing with Katya Jones
Strictly Come Dancing's star Katya Jones will once again be helping the nation get number confident with by using her dynamite dance moves. In a hip-swinging activity that is sure to get even the most number shy shimmying, Katya will be helping children boost their number confidence by using movements. There's nothing to stop the grown-ups joining in too!
Baking fun with Peter Sawkins
Bake Off winner Peter Sawkins will be putting his cooking expertise to great use with a couple of specially created recipes. This year Peter has taken an oven-less approach to baking that is nonetheless totally delicious. Find out how to make his National Numeracy Day rocky-road bars using the download button below. His new video is coming soon!  
Number Confidence tips for children from Rachel Riley
Countdown's resident arithmetician shares four fantastic tips that anyone can use to build their confidence with math and numbers. It's not always easy to get the hang of maths at school and that's where remembering these tips comes in handy. 
Money activities from Mr MoneyJar
Our newest Ambassador, the finance expert and podcaster Timi Merriman-Johnson, aka Mr MoneyJar, has created a set of resources to help children learn about savings, in a fun and imaginative way. It's not about having lots of money, but about learning to use what you do have wisely – a subject dear to Timi's heart.
From the National Numeracy Day archives: Lauren Child Story Time
For National Numeracy Day 2020, Lauren Child read for us from her book Ruby Redfort: Look Into My Eyes. Watch along here!
For adults:
Promoting the National Numeracy Challenge
The National Numeracy Challenge is an online tool that builds numeracy skills and confidence, with 300+ everyday maths questions and tutorials, multimedia resources, technology that adapts to individual learning levels and signposting to further support.
The Challenge is the perfect way to boost the number confidence of anyone over the age of 13, all year round, and is a great next step after you have had a Big Number Natter.
Download graphics to promote the Challenge 
Links to the Challenge can be found in your Secondary Campaign Guide.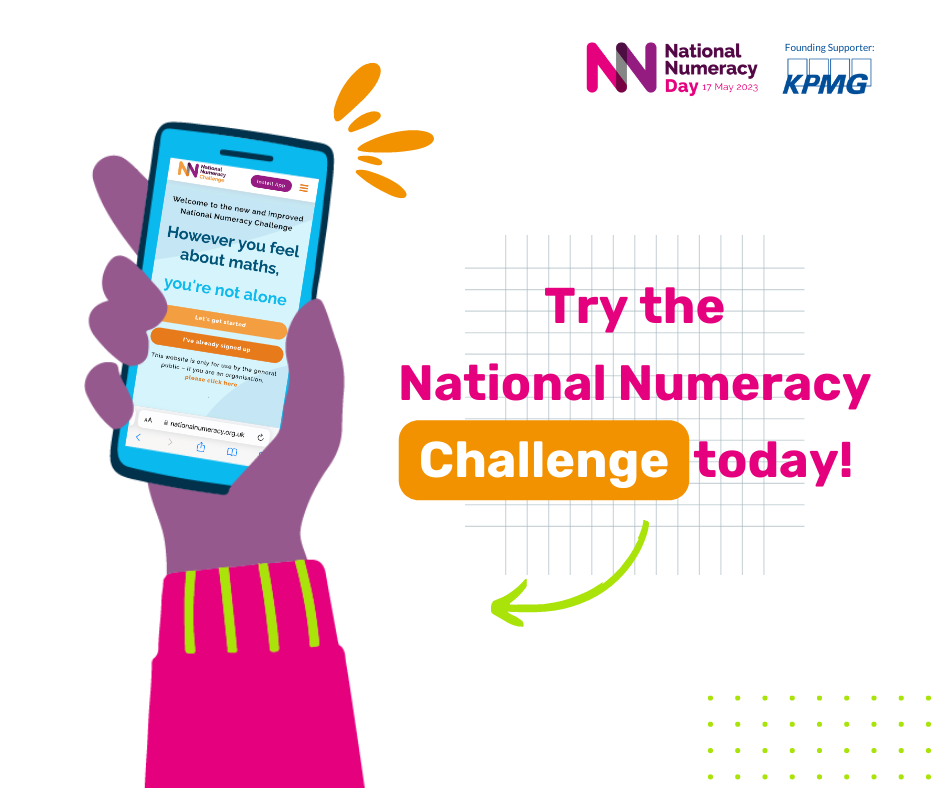 Your Big Number Natter resources
Everything you need to plan your Big Number Natter: 
Plan your session
Get started planning your Big Number Natter sessions with these notes for organisers. Then get stuck in to all the other resources.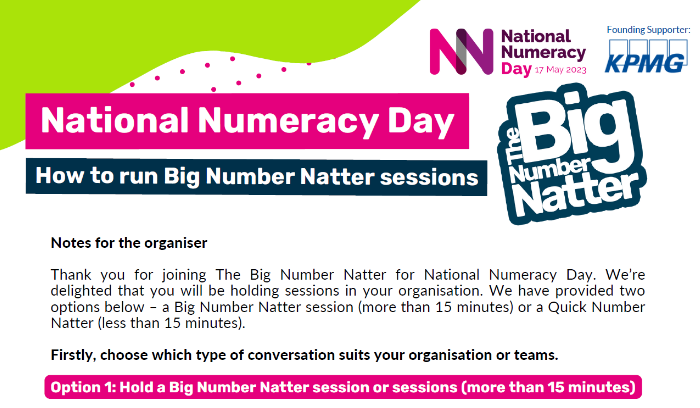 Your Number Natter Slides
Hold a 15-30 minute session using these slides, provided with presenter notes.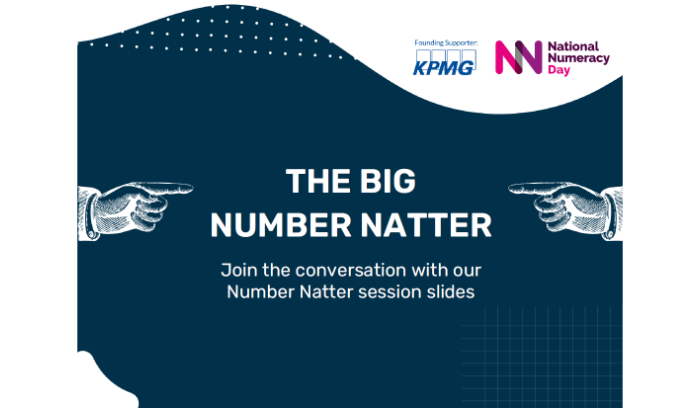 Quick Number Natter talking points
Use these ideas to spark a less formal conversation about numbers.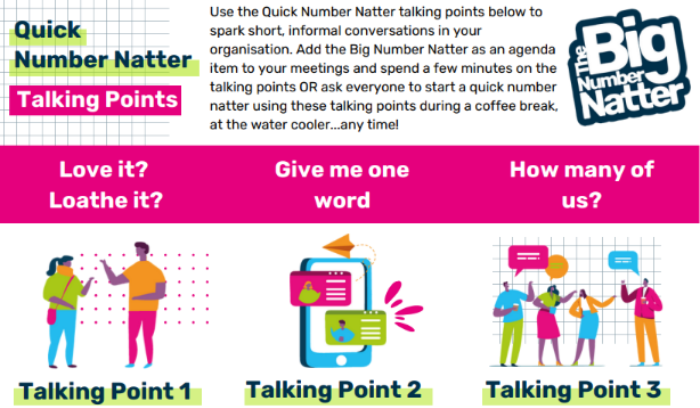 Ideas for Number Nattering on social media
Use these ideas to encourage everyone to follow up on your session with some social media ideas for individual Number Natters.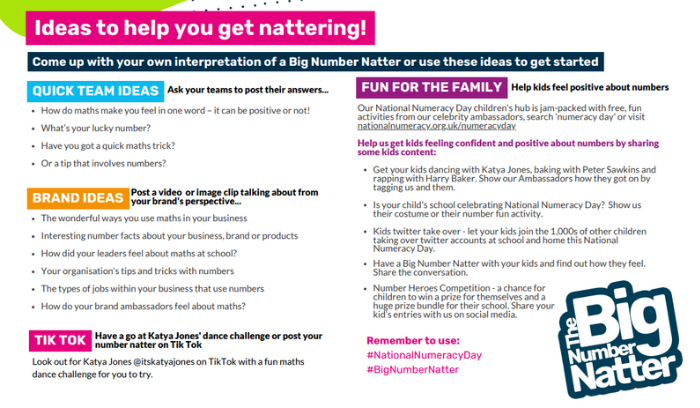 Find out how to talk about numbers
Get some expert help from our Training Officer Ishraq Li-Rahman.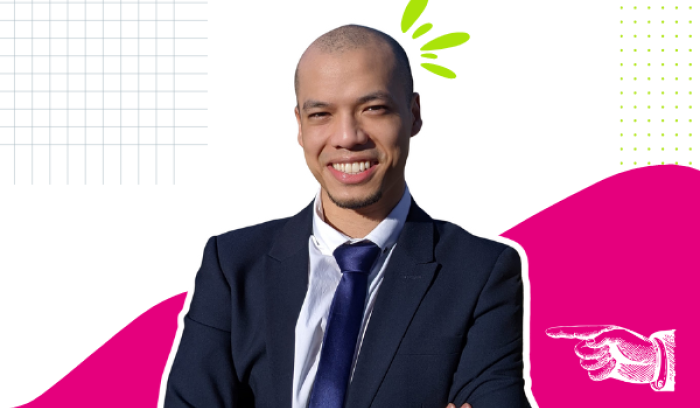 Be sure to tag us in any social media activity and use #NationalNumeracyDay so we can see and share what you're up to! You can find us on: